2023-05-27 12:31:36
As time goes by, the oldest motorcycles are becoming revalued jewels, some more than others. But if we are really looking for a real unicorn, almost all lovers of the world of two wheels will agree that the Honda VFR750R, better known by its code as RC30is one of the most iconic of all time.
A motorcycle that today is the object of desire of many motorcyclists. The '80s and '90s left their mark, without a doubt. There are not too many units of this exotic motorcycle: they only made 3,000 with the special V4 engine approved for the street. Unify the love for competition, for racing and motorcycles.
That motorcycle died in 1994 with the arrival of the RC45, the next version, its successor that failed to captivate in the same way. Only 600 motorcycles came out of that batch. So the RC30 looks even better. whatWhat would it be like today? It's hard for us to imagine and for this our well-known designer Kardesign gives us a hand.
20 years later, Honda returned to V4 sports cars. Giving free rein to his imagination, Kardesign has reinvented the RC30, but adapting it to our times. And she has dreamed big: "But what if Honda produced a motorcycle for the masses? What if that V4 sportbike was powered by a spicier version of the engine from their outgoing VFR800?the artist wonders.
And he continues: "What if that bike was wrapped in a capable, mass-built chassis, dressed in sleek new bodywork and painted in the classic RC30 scheme? What if that bike didn't require the sale of a kidney, but had the price of a Ducati Panigale V4??". And so one of the most spectacular renders we have seen in recent times was born.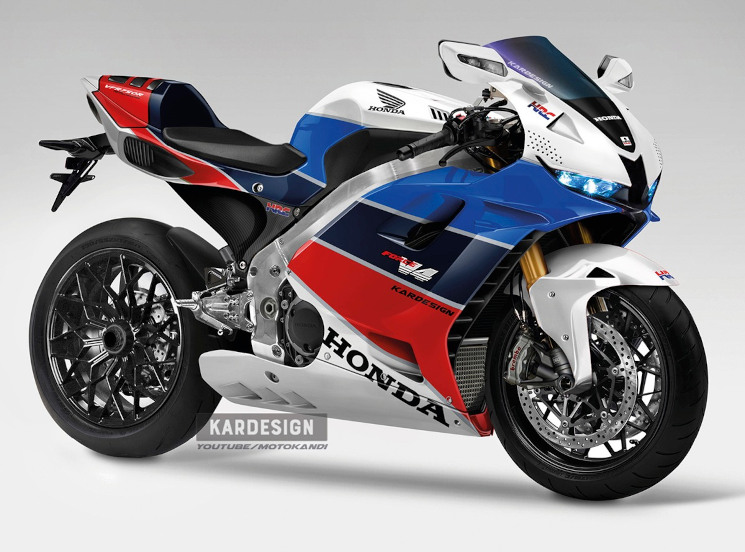 Say hello to the Honda RC30 reimagined for the 21st century, because it justifies that, "If Ducati can make a desirable V4 sports bike for everyone for less than €25,000, why can't Honda?". The result is an updated RC30 with very sporty lines and that, indeed, would fight squarely with the Ducati Panigale.
The appearance is unmistakable, taking certain licenses of the current CBR1000RR-R Fireblade SP. We can see it in the angular shapes of the front fairing, including the headlights. The tail has been redesigned, where the exhaust comes from, as well as giving the bike the particular and attractive single-sided swingarm that leaves the tire exposed.
Also read: Norton presents the V4CR: a very beastly British café-racer with 185 CV and almost 50,000 euros
And of course, covering the motorcycle with the mythical colors of the brand, including its original "Force V4" sticker. In this case, the chassis is accompanied by top-level components: Brembo braking, inverted fork, and of course, the return of the highly competitive legendary V4 engine. I wish Honda would listen to the prayers of the most classic lovers and carry out this dream illustrated by Kardesign.
#beastly #Honda #RC30