Electric battery electric cars must be suitable for daily use, both for low-mileage urban routes and for long-distance trips, under different circumstances depending on the type of wallet or even the climate and weather conditions.
Purchase decisions are significantly affected, above all, by autonomy, but also by the charging performance of high-voltage batteries. For this reason, Audi designs, develops and tests its own battery cells and components at its test center for high-voltage batteries in Gaimersheim.
Bernhard Rieger, battery cell expert

Black, Red, Gold – These are the colors that indicate the state of charge of a battery cell. During recharging, lithium ions are deposited on the graphite anode, and the graphite anode changes color depending on the state of charge. When uncharged, graphite is black; when the charge is half charged, it turns red; and when fully charged, it looks golden.
"This allows us to see and evaluate the state of charge," explains Bernhard Rieger, battery cell expert at the Audi battery test center in Gaimersheim. When the electrodes charge, they do not charge evenly. An electrode will charge faster where there is a greater number of lithium ions, resulting in a degradation of the state of charge. Ideally, the color should always be the same; but for this an extremely fine electrode would be needed, which would therefore have a very small capacity.
"When it comes to fast-charging lithium-ion cells, the secret lies in precise current control to avoid overcharging the anode in the gold spots, which would lead to premature aging," Rieger adds. "Our mission is to ensure the perfect functioning of lithium-ion cells to achieve the best possible range and charging performance."
This work ensures that your electric vehicle battery will have excellent range and charging performance. "Once the basic need for autonomy is met, cargo capacity becomes more important," adds Rieger.
energy density

It is necessary to find the right balance between high energy density and short charging times. That is why Gaimersheim technicians face contradictory objectives. "We have limited space, in which we have to store the largest amount of energy," says Rieger. "But we also want to be able to recharge as quickly as possible."
The conflict is that the higher the energy density, the longer it takes to charge the cell. This means technicians are faced with a balancing act that requires them to at least maintain charge times while increasing energy density.
In order to charge a lot of energy quickly, charging capacity is the first item on the project development agenda. Two Audi models are setting standards in this area today: The 93 kWh high-voltage battery cells used in the Audi e-tron GT quattro can charge from 5 to 80% with up to 270 kW of power in just 22, 5 minutes, under ideal conditions.
The Audi e-tron, which was launched on the market in 2019, is still considered the benchmark today thanks to its unique plateau-type charging curve, in which charging power of up to 150 kW is available for a large part of the day. process.
"We spent a lot of time on cell development and current control to achieve the fastest possible charging time, along with high efficiency and long service life," explains Rieger. That's why at Gaimersheim the focus is not limited to the battery cells: The entire system, with its electronics, thermal management system and high-voltage equipment, is equally relevant to the Audi fast-charging concept. "Our systems are designed from day one with a focus on fast charging, due to the difficulty of increasing charging capacity later on.
Only a perfectly balanced assembly, in which every detail counts from the earliest stage, will achieve the desired load-bearing properties." From the test bench to pre-series production – everything under one roof In addition to energy density and charge capacity criteria, the battery cells also meet the highest standards for service life and safety. To do this, the individual cells and the battery system as a whole have to pass numerous tests at the Gaimersheim center, which occupies an area of ​​about 4,400 square meters.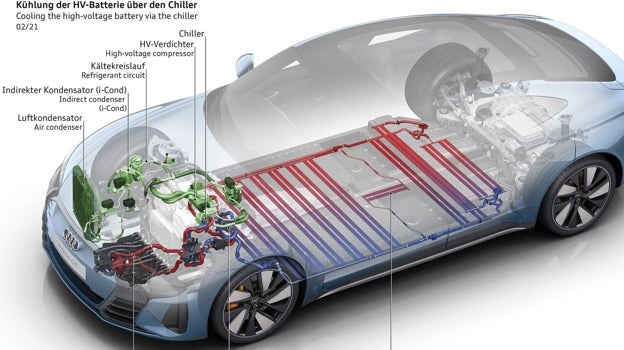 Each vehicle project entails a series of lifespan and fast-charging tests on several hundred battery cells, which have to go through different load and stress profiles that technicians run in climatic chambers at temperatures as low as -30° C and +60° C. "Our tests and checks start early in development, about four years before the start of production, to give us time to make readjustments when necessary," explains Rieger.
To assess the effects of aging, battery cells are also exposed to high temperatures for approximately one year. This allows Audi to simulate a lifespan on the car of up to 15 years. The longevity test benches in Gaimersheim also allow technicians to speed up the recreation of mileage scenarios of around 300,000 kilometres.
Other tests are shock and overload tests, as well as various safety tests. Various driving scenarios can be simulated to optimize thermal management or operation of high voltage components. "This application allows us to make the best possible adjustment of our batteries," says Rieger. "The new measurement results are fed directly into the virtual models of the batteries so that we can observe the effects on the vehicle." Gaimersheim is also home to a prototype battery building facility; Here, technicians build the high-voltage batteries from the ground up to pre-series production.
"At Gaimersheim we can adapt the design and operating strategy of our battery cells to achieve perfect properties for Audi. How can I operate and build a battery to get the most out of it? That is a question that we answer every day at the battery test center in Gaimersheim," sums up Rieger.