The University of International Integration of Afro-Brazilian Lusofonia (Unilab) signed a protocol of intentions with the municipality of Itapipoca, Ceará. The document opens the door to future cooperation in teaching, research and extension activities. In addition, an internship agreement was signed, from which university undergraduate students will be able to carry out internships in Itapipoca and complement their training.
Unilab's rector, Roque Albuquerque, went to Itapipoca at the invitation of the mayor, Felipe Pinheiro (PT), who expressed his desire to take two university courses to the municipality: Computer Science and Energy Engineering. They would be graduations in the EaD format, which, in the case of Unilab, would be housed in the Institute of Distance Education (Iead).
"Today we don't have vacancy codes to open a new campus, but it's important to build a technical cooperation agreement, which is not closed at all. The creation of a new campus passes through the University Council (Consuni), with the role of the Rectory to bridge the gap. We are ready to dialogue, interact, understand, and even take the agenda to the council, to the institute and connect the institute to the city, until Consuni has the final word", highlighted Albuquerque.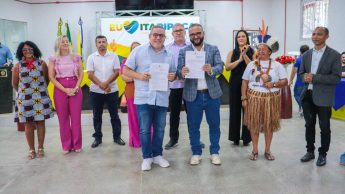 Stages
An Internship Concession Agreement was also signed, which establishes, via curricular internship, mutual cooperation between Unilab and the municipality of Itapipoca. The objective is to provide Unilab trainees with the opportunity to deepen their knowledge and develop significant skills for theoretical and practical professional training, carrying out social learning activities (linked to the dimension of social relations at work), professional and culturally compatible with the respective curricula and school schedules.