A new YouTrend index explains which of the Italian regions is running the most for the vaccine. Five parameters, from vaccinated in RSAs to the ratio between doses received and used. Here is who can cross the finish line first, and who trudges
The vaccination campaign is not proceeding homogeneously in our country, but there are significant differences from region to region: to measure these differences, however, it is not enough to look at a single parameter.
Starting from this assumption, YouTrend has developed an index that aims to summarize the progress of the vaccination campaign in each autonomous region / province, combining 5 parameters:
1 The percentage of doses used out of the total doses received;
2 The percentage of vaccinated RSA hosts;
3 The percentage of subjects over 80 vaccinated;
4 The percentage of subjects in the 70-79 age group vaccinated;
5 The acceleration of vaccinations compared to the previous week.
The index of each region is nothing more than the weighted average of these 5 parameters: the first 2 weigh for 10%, the third for 40% and the last 2 for 20%.
Each of these 5 parameters, as well as the index, ranges from 0 to 100, with the latter value equal to the data of the best region for the first 4 parameters and a doubling of the doses administered compared to the previous week for the fifth parameter. .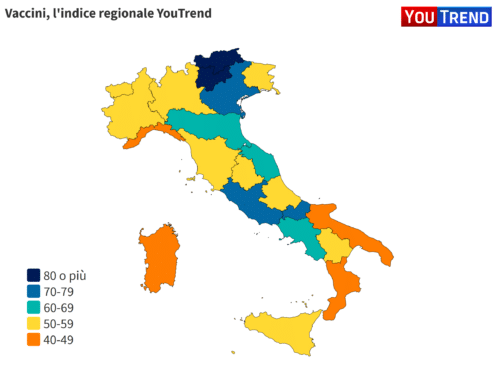 The closer the index of a region to 100, therefore, the more that region will have conducted the vaccination campaign effectively. In short, this index does not provide an absolute evaluation, but allows a comparison between regions.
The index, updated as of March 31, has a national average of 56 out of 100, and sees Trentino-Alto Adige in the lead, which is the most virtuous region in the vaccination campaign so far: the autonomous provinces of Trento and Bolzano, in fact, they are rewarded above all by a higher number of vaccinations, compared to other regions, especially between over 80 and 70-79 years old. In particular, Alto Adige has an index of 89 and Trentino 80. Further back, in the range between 70 and 79 points, there are Molise, Lazio and Veneto.
The ranking is closed by Puglia, Liguria, Sardinia and Calabria, which all have an index of less than 50 points and are penalized above all by a rather low weekly trend.