Advertisement
The three-match ODI series between India and Bangladesh is currently underway in Bangladesh. After defeating India by one wicket in the first ODI between the two teams, Bangladesh is batting first in the second match today.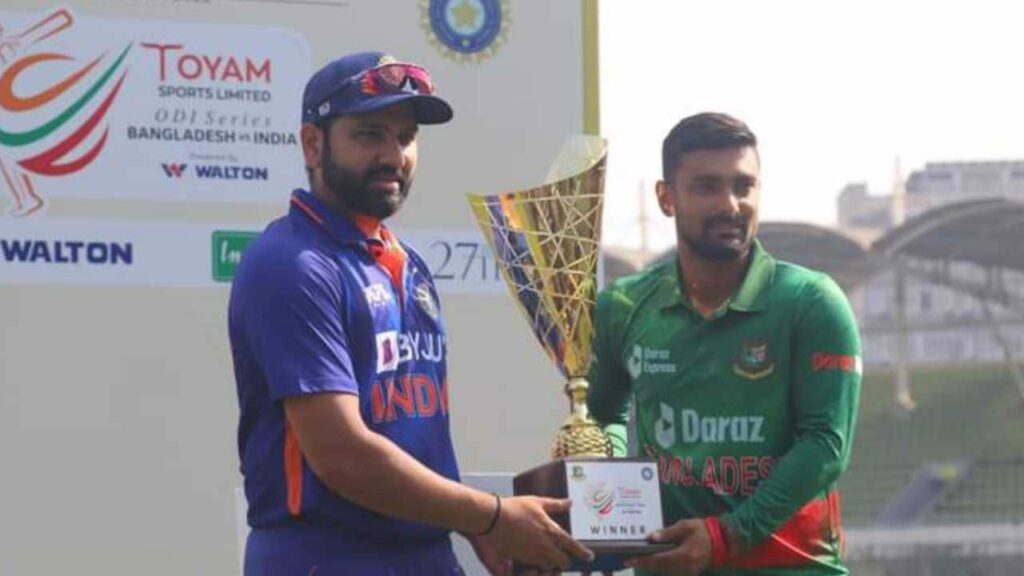 Bangladesh, who are already leading the series by one win to one nil, won the toss and declared to bat first in the second ODI that started today. Accordingly, the Bangladesh team is batting first.
The Bangladesh team is playing with the intention of winning the series and the Indian team is playing with the intention of winning this match and leveling the series. However, in the second over of the start of this match, the captain of the Indian team, Rohit Sharma, left the field dripping with blood, which has caused sadness among the fans.
Rohit sharma got injured #rohitsharma pic.twitter.com/4IAOHpt1Ua

– Adnan Ansari (@AdnanAn71861809) December 7, 2022
Accordingly, in the second over of this match, the ball hit by Anamul Haq off Siraj went towards second slip. Then Rohit, who was fielding in the slip direction, injured his thumb while trying to catch the ball.
– Advertisement –
While at first it was seen as a simple injury, Rohit started throbbing within a few seconds of the ball and then injured his thumb and bled. As a result, Rohit hastily left the field and has now been taken to the hospital and is being examined.
Also Read: IND vs BAN: Rohit makes 2 changes to Indian squad for 2nd ODI – Here's the playing XI
So there is a doubt whether he will come to bat during the second innings. At the same time, it is noteworthy that instead of him, Rajat Udhar is fielding as a substitute player.
Advertisement