If there's one thing we've learned from previous seasons (or from life itself) it is that a relationship that begins with a big "boom" is about to explode with similar intensity. Such exactly is the relationship of Ben and Maayan. It was only a matter of time before the euphoria in their relationship would lose its stability.
The meeting with the friends proved beyond a shadow of a doubt that this show of love can hold them together, but as soon as a third party enters – Ben understands where he has put himself. "I do not know enough sides," he tells the camera and bursts into a monologue that we could not have written better ourselves.
The beginning of a relationship is usually fun, light-hearted and exciting (you said that, you said Ben and Maayan), especially when you add to it a glittering set of a wedding dress and a glass break, and how not a romantic honeymoon in a dream destination. But when the hi is over, the questions start to float. Ben may be shuffling between Labby Dabi and reality, but Maayan is not there yet. And this is friends, a time of calamity.
We almost saw her by the way, when the friends insisted on pushing the two into a corner around the question of how Ben felt when he first saw Maayan (we as devout viewers who are aware of the answer, we counted breaths before the explosion – which did not happen, straightened white power). Although the test of friends and the embarrassing questions passed in peace, it does not mean that one can rest on laurels in this sector.
Another couple who suffer from the "big boom" symptom are Katya and Lior. Pleasant, nice, pleasant, fun and pleasant to them together (and pleasant again). Both are happy with the fit at the moment and it's noticeable (hey, they even stole a kiss from the cameras), but here too one has to maintain a safe range.
Although the two first met under a canopy and kiddushin, the talk of changing the last name or future children 24 hours into the acquaintance felt unnatural (Katya, not only are you stressed).
The main conclusion from this conversation is that Lior is very much trying to adapt Katya to his world. To the particular pattern he has in mind of how his wife should be, what she should believe in, and what surname she should have.
And if we've been dealing with future booms and explosions, then May and Moses. It turns out that even "perfect" ends up expiring, even Moshe knows how to say it. And with May's dog cloud over their heads, the two return from the honeymoon (the perfect, perfect perfect) and land in reality.
All the introduction to Moshe's unwillingness to take care of the dog, dwarfs and almost disappears as soon as the two meet. He is even willing to give up moving to his apartment for the convenience of his partner and her child.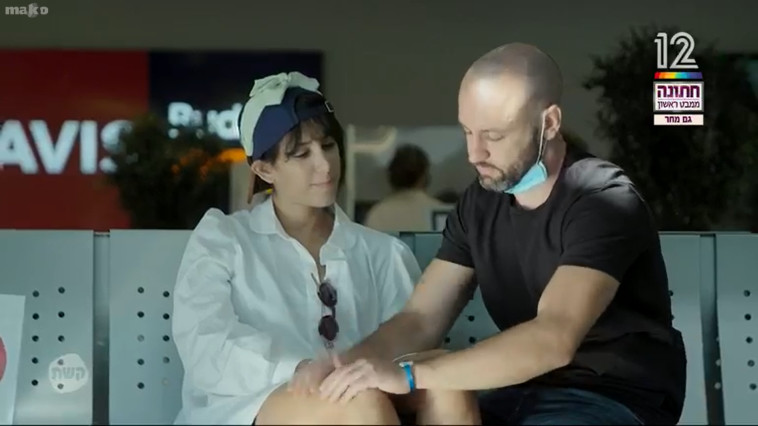 But May provides us with Deja Vu for the previous episode, in which a minute after Moshe dropped a bomb she chose to ignore her feelings and reconcile – and yes, this time too. A recurring pattern seems to have developed in this relationship, in which May gives up on herself and Moses is very comfortable. She gives him exactly what he wants and needs, but is he willing to do the same for her?
Moshe's gesture with the key and May's jumps on the bed, will not stop the hourglass of their relationship, if Moshe does not step out of the comfort zone and come towards her.
At this point most of the couples are walking between the glasses (also and especially Rinat and Daniel) but the euphoria will not last forever and the first explosion is approaching in huge strides, the question is which direction.