In Germany, sales of alternative engine vehicles, mainly plug-in hybrids and electric vehicles, are growing rapidly. While they are significantly more expensive than traditional passenger cars with internal combustion engines (ICE), but in Germany, buyers receive subsidies from the state and manufacturers to buy cars with electric motors. In addition, it is believed that they are more profitable in operation, especially with high prices for fuel and lubricants.
And what about the repair of such cars? Which is more profitable to repair: electric cars or cars with internal combustion engines? And which ones are more likely to catch fire? These are the questions asked by the German concern Allianz. The interest of the insurance giant in this topic is obvious: it needs to correctly calculate the risks and, accordingly, the cost of its services for car owners.
Electric vehicles: specific safety standards and manufacturer requirements
At the end of September, the engineering and technical center of the concern in Ismaning near Munich (Allianz Zentrum für Technik, AZT) presented at a conference of specialists a study of the costs of repairing rechargeable hybrid and all-electric vehicles. It used statistics from 2018-2020.
Bottom damage is especially dangerous for electric vehicles, as battery replacement is very expensive.
Key takeaway: Electric vehicle repairs are more expensive in Germany – about 30% more expensive in the event of a collision, with plug-in hybrids being the most expensive. Therefore, hull insurance policies cost a little more than insurance for cars with internal combustion engines.
The higher cost of repairs is due not only to the design features of electric vehicles (for example, the battery, a key element of such cars, requires enhanced protection in the event of an accident), but also to specific safety standards and manufacturer requirements. Some of them, for example, insist on replacing the battery if the airbag has deployed. This costly operation can make it economically meaningless to repair a damaged machine.
Batteries and cables cause major problems
Another example: if an electric vehicle is no longer on the run after an accident, and there is still a lot of energy in the battery, its evacuation requires special fire-fighting measures, which makes it more expensive.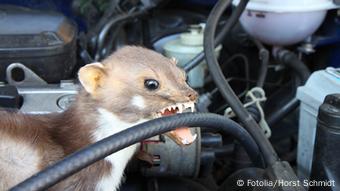 Even in big cities, martens often damage cars, but they are especially dangerous for electric vehicles.
In general, the repair of electric vehicles, AZT experts remind, is allowed only in auto repair shops in which personnel are trained to work with high-voltage wires. However, if, as a result of a serious accident, the car ceases to be intrinsically safe (which happens very rarely, the study notes), the qualifications of such auto mechanics may be insufficient. The involvement of specialists delays the repair and leads to additional costs.
Weasels or rodents can be very expensive for owners of electric vehicles (or their insurers). If they damage the high-voltage cable, replacing the corresponding kit can cost up to 7,000 euros, since it is not yet possible to repair such a cable, AZT experts say. But they note that some car manufacturers use replaceable cable sheaths. In this case, the cost of repairs is reduced by 97%.
There is no increased fire hazard of electric vehicles
How fire hazardous are electric vehicles? Indeed, due to a number of publications in the media, one might get the impression that they especially often ignite. The study provides statistics: in Germany, about 15 thousand fires of passenger cars are registered per year, while cars with electric drive account for significantly less than 1% of cases.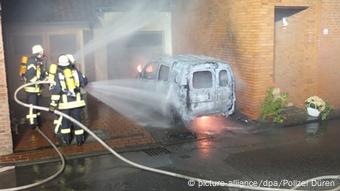 Firefighters in Kreuzau extinguish an electric car that caught fire during recharging
"In our study, we did not find that electric vehicles were more likely to catch fire than conventional gasoline or diesel vehicles," said Carsten Reinkemeyer, head of safety research at AZT.
The Association of the German Automobile Industry (VDA) came to a similar conclusion. Electric cars do not burn more often than cars with internal combustion engines, but they take longer to extinguish, which, as a rule, leads to higher consumption of extinguishing media.
See also:
.