Duisburg • Hot weather set in Germany, and many of the country's inhabitants rushed to the water – to sea beaches, lakes, rivers, reservoirs and other bodies of water. At the same time, the first reports of tragic incidents appeared in the media. The other day, in the Rhine near Duisburg, where these photographs were taken, a 17-year-old girl and two girls who came to the river together drowned. The body of one of them was found by rescuers, but further searches were unsuccessful and after about a day they were stopped.
It is rivers and other inland waters that account for nearly 90 percent of all such deaths in Germany – 335 of 378 drowned in 2020. In some years, the total is even higher – more than 550 people. This is evidenced by the statistics of the German water rescue society DLRG. The peak usually occurs in August.
Why the Rhine is dangerous
Experts strongly recommend that special care be exercised on the Rhine – or rather, from year to year they categorically urge not to swim in this river at all – nowhere! Even an adult who is just knee-deep near the shore can be pulled under the water – especially when cargo ships and barges pass by.
Once in the middle of the river, it is difficult or even impossible to get out of the Rhine on your own even for professional swimmers (!) – the current is so strong here even where it seems slow and calm, and dangerous eddies and funnels drag people under the water to the very bottom. On hot weekends, there are usually lifeguards on boats near the official beaches. Police on boats are trying to get out of the water those who do it in dangerous places.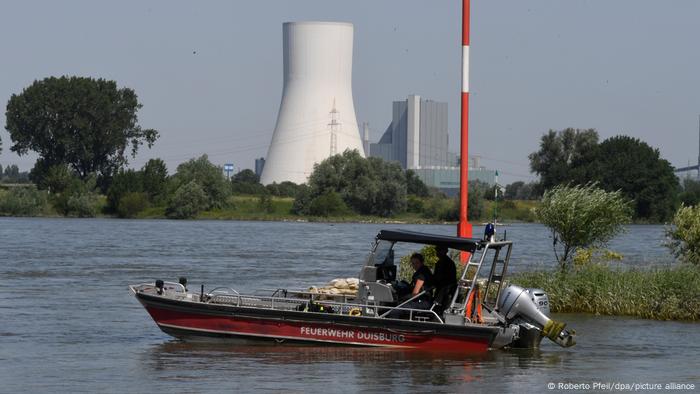 Rhine and Autobahn
It is impossible to fence the Rhine with a fence, so all that remains is to appeal to prudence. Moreover, in many places along this river there are enough lakes and other bodies of water where you can spend hot days with less risk to life, not to mention open summer pools.
The parents are especially responsible for this. One of the rescuers in an interview with the regional media company WDR, trying to more clearly describe the danger, suggested that parents should be able to calmly observe how children play football on the reserve lane of the Autobahn. At the same time, due to the coronavirus pandemic, schoolchildren were deprived of the opportunity to learn to swim in pools, which can increase the risk of accidents on the water.
See also:
.