2023-06-06 12:32:00
The concrete and earth structure, one of the largest in the country, was partially destroyed on Tuesday by bombing. kyiv and Moscow accuse each other.
By NB with AFP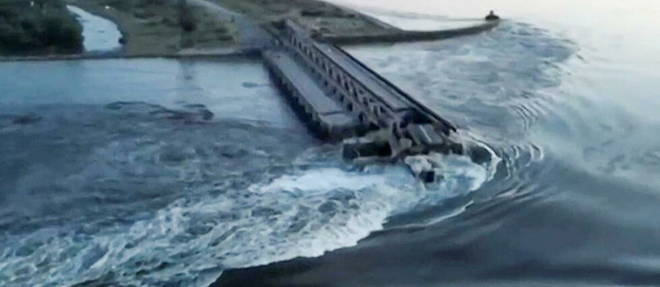 Lhe Kakhovka dam, which Kiev and Moscow accuse each other of having attacked on Tuesday June 6, is a key work in southern Ukraine which supplies water to annexed Crimea and is on the route of Ukrainian troops towards a reconquest of occupied territories.
Taken from the beginning of the invasion because priority target of the Russians, this hydroelectric dam located on the Dnieper River is today on the frontline between the regions controlled by Moscow and the rest of Ukraine, at a time when kyiv is intensely testing Russian defenses in preparation for a major offensive.READ ALSO War in Ukraine: understanding the conflict since the start of the Russian invasion
Located 150 km from the Zaporijia nuclear power plant, the Kakhovka dam, a partly concrete and earth structure, is 3,273 m long. It is one of the largest infrastructures of this type in Ukraine. According to the website of the Ukrainian operating company, Ukrgidroenergo, the power of the hydroelectric plant is 334.8 megawatts (MW).
Built in the 1950s, during the Soviet period, the Kakhovka dam also allows water to be sent into the North Crimean Canal, which starts in southern Ukraine and crosses the entire Crimean peninsula, occupied and annexed by Moscow since 2014.
A "war crime"
The destruction of this dam should thus cause significant difficulties for the water supply of Crimea, which kyiv claims to want to reconquer. Upstream of the structure is the Kakhovka reservoir, an artificial water reservoir formed on the course of the Dnieper, 240 km long and up to 23 km wide. Both the dam and the nuclear power plant were taken by Russian troops in the early days of the Russian invasion of Ukraine, launched on February 24, 2022.
With villages "completely or partly flooded", the Ukrainian authorities quickly denounced a "war crime" by Russia on Tuesday, while Ukrainian President Volodymyr Zelensky urgently convened his security council. "The objective of the terrorists is obvious: to create obstacles for the offensive actions of the Ukrainian armed forces", castigated Mykhaïlo Podoliak, adviser to the presidency.READ ALSO "To avoid other Boutcha, we must return to the negotiating table"
The authorities installed by Moscow in the region of Kherson (South) for their part accused kyiv of "multiple strikes" on the dam, causing, according to them, the partial destruction of the work. According to Kiev, "about 16,000 people are in a critical zone", threatened by flooding, while Moscow has judged that 14 localities where "more than 22,000 people reside" are in such a situation, but "the situation is completely under control ". However, the town of Nova Kakhovka, where the dam is located, is flooded, local authorities installed by Moscow said.
#Kakhovka #dam #targeted