Guy Yehud (36), a Mediterranean pop singer from Rosh Ha'Ain, has a pure love for the profession. As part of a career that has lasted for 20 years, he has experienced successes, but also quite a few disappointments. He is remembered by many as a finalist in the third season of the TV show X Factor, which ended with the victory of Eden Elena.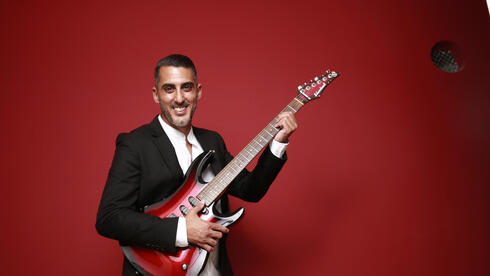 Yehud, who created a lot of buzz around him at the time and was known in almost every household, was convinced that the big breakthrough was waiting just around the corner. But as great as the expectations are, so is the greatness of the disappointments, especially from people in the industry who promised him the moon and disappeared as quickly as they came. After going through a difficult period, he managed to recover, much thanks to his close friend, the singer Yoav Yitzhak.
Today, three years after he starred in the reality show, he is at peace with himself. And what about the big break? Yehud is convinced that it is only a matter of time, and even if not – let him continue to perform, create and earn a living in the profession he loves so much.
"I started learning to play keyboards in the third grade," he says. "That's how I continued until I was 18 and I was drawn into the world of music. I wrote and composed my first song at the age of 14. At that time, I mostly sang for myself, but when my family and friends heard, they encouraged me to continue. At about the age of 16, I wrote a song about breaking up with a friend I had.
"I played it to the singer Nati Levy, who is a very close friend of the family and was at his peak at the time. Nati was enthusiastic and offered me to sing it together at his concerts. I was mostly embarrassed because I didn't possess a great singer myself, but he insisted. The song was successful and we sang together on big stages in front of thousands fans at his concerts. It was an experience I will never forget. I realized then that I wanted to pursue music as a way of life. Happily, my parents supported me from the very beginning, and to this day they come to my concerts."
When it was time to enlist, he was accepted into the Education Corps band. "We collaborated with Agam Rodberg, Tom Avni and Dana Frieder, who were then in the IDF theater," he recalled. "During the service we even went to concerts in the United States for a month."
How was the mood in the band? Like in the famous Avi Nesher movie?
"Absolutely not. We were very connected and cohesive. I had a partner in the band at the time, and I don't remember ego struggles as expressed in the film."
After the release, Yehud studied music professionally, opened a recording studio and focused on productions. "At the same time, I released individual songs that are online today," he recalled. "At that time, I knew all the big names in the industry today, such as Far Tassi, Itay Levy, Dodo Aharon, Shir Levy, and more. Over the years, I performed at weddings with three musicians, with most of the songs being covers and some being my own."
In 2019, he decided to participate in the X Factor to jumpstart his career. "It was a very intense period," he says. "What was broadcast was actually filmed a year before. We started the day of filming at half past six in the morning and it was very tough."
What do you remember from those days?
"Many ego struggles between the contestants. By my nature I am a man of peace and hate arguments, but what went on there between the contestants went beyond the limits of competition. There was a lot of jealousy between one another and unpleasant things. I was relatively older compared to the other contestants who were in their 20s." .
Give an example of a conflict that happened?
"In the final stages of the competition, I was supposed to sing almost last, and then there started scenes of arguments and claims in the style of why him and not me. This whole situation was very uncomfortable. Or when they would do interviews for us: I remember there was a world war, and everyone pushed the other and competed About the attention. These are things I would never do."
How did you manage with Eden Elena?
"First of all, it is important to clarify that she is a great singer. There was an age gap between us so that there was no special connection between us. Eden and I were the favorites in the last trio, and I admit that I did not feel a special paragon from her."
"No. The last time we were in touch was right after the show, when I asked her to upload my song to Story. She politely refused. We haven't spoken since."
How do you sum up the experience?
"Very difficult, but amazing nonetheless. I learned a lot about the industry."
After winning the honorable second place, Yehud was convinced that his big break was coming. "I felt I was on the right path," he says. "At that time, I received countless promises to upgrade my career, both from people in the show and from people in the industry. Everyone told me: 'Don't worry, I wrote songs for you, scheduled an interview for you.' I felt enveloped and with the highest confidence, here it is happening to me.
"Slowly, I saw that suddenly that guy doesn't answer the phone, she can't talk right now, and the one who promised you a song gave it to someone else. Suddenly you find yourself alone. Lots of reality TV contestants always say that the buzz around them comes and goes with a boom. For me, it came with a boom and disappeared in a matter of seconds months".
"Very frustrating. You see people who were with you in the past at the same starting point and we sang together on the same stages, but they broke through and you didn't. Of course I was happy for them, but I was very sad for me, I was really ashamed."
"After the show I didn't stop working and recording, and suddenly people on the street ask you where you've gone. Go explain to them that you're still in the field and you're not going anywhere. I remember I released a song, and a week later someone asked me on the street why I'm not releasing songs. Go explain to them that you invested your money 120,000 shekels. It's really breaking the bank."
So the whole industry is a fake?
"No, but it is very difficult to succeed here. There is no shortage of people who were stars for fifteen minutes and disappeared."
In those days Yehud felt the loneliest man in the world. "There was a time when I found solace in alcohol," he says. "It lasted something like a year. I would return, for example, by car from a performance at a happy wedding, but cry all the way home. You realize that all the good you've been through turns into bad. The thoughts were that at this point in my career I should have already performed in Caesarea, like many people I know." .
How did the family deal with it?
"I wouldn't show it at home. I could come back from a performance early in the morning mentally crushed, and still take care of my children in the morning and not show what I'm going through."
"The singer Yoav Yitzhak really supported me. He took me with him to every show or interview he had on TV. He really set a condition that he comes with Guy Yehud."
How was the connection made?
"I've always known him in the Shalom-Shalom segment because we both met at first sight. In the last three years, we've become close friends, just like family, despite the age gap. We perform together, including abroad, and even go on vacations together. He is a very special man with a young head."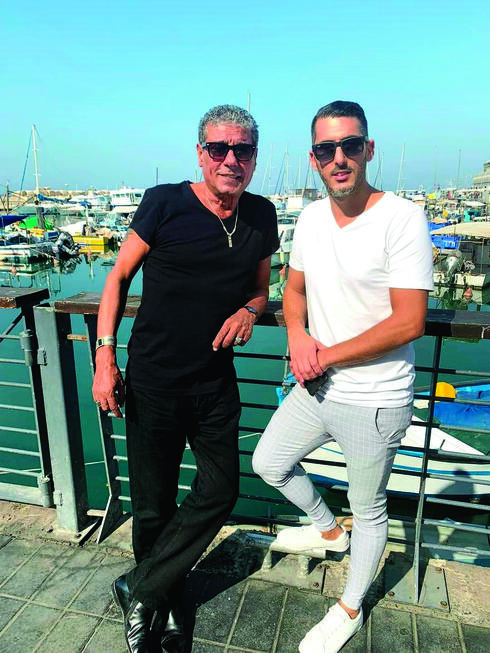 what are you doing today?
"Now we are in the holiday season, so I spend a lot of time with the children. At the same time, I continue to perform as always at weddings and parties and events of friends and representatives. I recently released a new song I wrote a decade ago called 'Mistakes'. I felt it was appropriate to release right now."
What message do you have for participants in music reality shows?
"Take everything in proportion. Work hard, but be ready for the moment when everything can end. Even people who won and became very famous gave up at some point because they probably didn't have the strength to fight."
When will the big break come?
"Since the age of 17 I've been making a living from music, doing what I love and saying thank you for it. I see a lot of my friends who don't get up for work with fun because it's not what they like to do. So even if I'm not at the top right now, I'm still happy in my part. I'm convinced that the breakthrough You will arrive at some point, and I still say thank you for what is happening right now."