The dark world manifested itself on the tablecloths
At the exhibition "Dark Forest" you feel like a hero of a terrible fairy tale and a stalker from the Strugatskys' novel at the same time. You wander among huge canvases, where a strange world is painted in black and white – with dark secret bases, bunkers, submarines, towers, nuclear test sites. We see all the buildings through the thickets of the dark forest, and it was painted on kitchen tablecloths, connected in large canvases, so that the reverse side of the dark forest is colorful and even homemade. However, it turns out that Taisia ​​Korotkova's unusual metaphor in the West Wing of the Tretyakov Gallery (formerly the Central House of Artists) is not at all a fairy tale or fantasy – the artist depicts real military objects.
Recently, hall 3 showed an intriguing hoax by a young artist Nikolai Koshelev, who created a series of works on behalf of a fictitious artist who supposedly lived a hundred years ago and then disappeared under mysterious circumstances … A new exhibition in the gallery's basement space again with mystical shades and again from a fairly young author. Taisiya Korotkova (born in 1980) offers a total immersion in folklore metaphor – a journey into an unthinkable scary tale.
Huge canvases are like theatrical scenery. The viewer can wander among them through the dark forest, finding strange things in different corners of it – a magic clearing of garbage, a flying hut or an inflorescence of magical herbs like a dream-grass or a Chernobyl alley. Black and white canvases, created with a black marker, depict in detail various structures or plants among the trees. They say that in every fairy tale there is a grain of truth, but here the truth is in every stroke. All these landscapes and herbs actually exist. This is evidenced by detailed explications: here is a radar station in Kubinka near Moscow, and here is a testing ground for atomic and hydrogen bombs in the city of Semey (on the Irtysh River).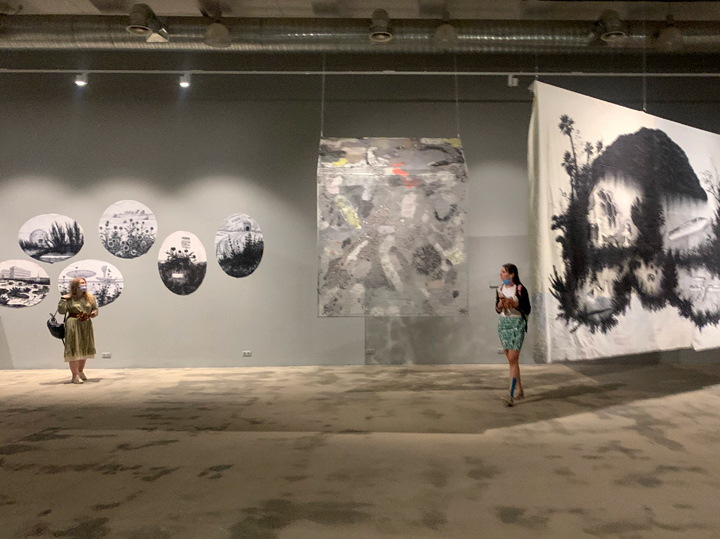 Here you can see a detailed description of the structure of the nuclear power plant unit and immediately switch to photographs of microorganisms, many of which, when approached, resemble a nuclear explosion. And then feel like a herbalist and learn the properties of, for example, a Chernobyl: according to legends, if you sew the September collection into the skin of a hare, you will gain unsurpassed dexterity and speed in running. Or tirich herbs – the favorite herb of witches and werewolves.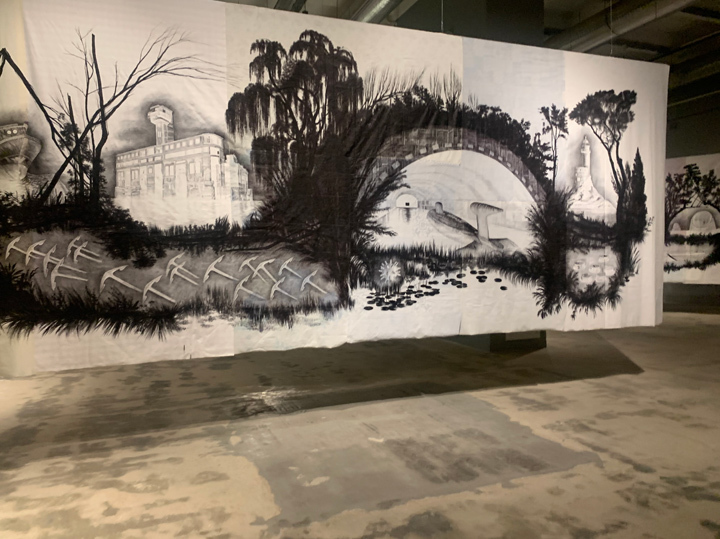 However, any dark side has a downside – a light one. The seamy side of the militarized "male" world filled with weapons becomes a cozy "female" one. The contrast is striking: on the one hand, science is on the verge of fantasy, saturated with ringing cold and quiet horror, on the other, a "patchwork quilt" of home oilcloth tablecloths, dazzling with cozy colors. Such an artistic technique becomes a kind of ellipsis in the exhibition: there is no absolute evil and good, fairy tales grow out of real mail, a ray of light always makes its way into the dark kingdom.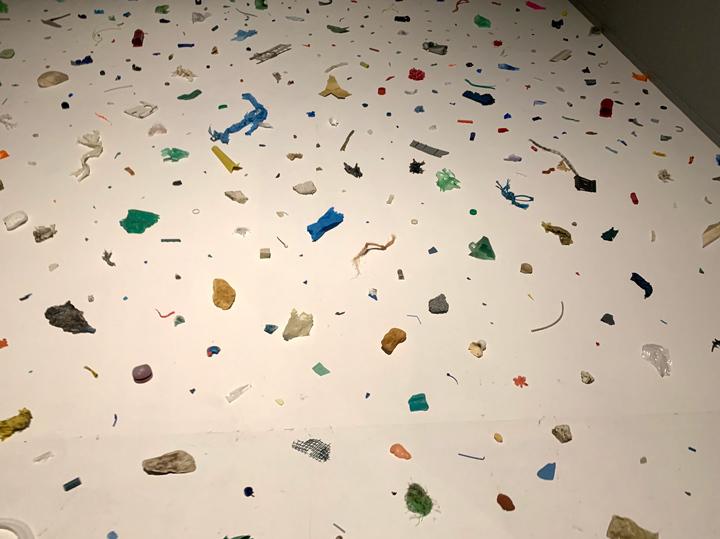 Newspaper headline:
The dark world manifested itself on the tablecloths
.