2023-06-05 11:59:55
The intense, vibrant and colorful Scrambler Ducati party lasted four days in Madrid Honna Surf Hub. This event has been accompanied by the exhibition in X-Madrid of the New Next-Gen models: the new Icon in its three colors yellow, red and black, the Full Throttle and Nightshift. And a special version customized by Van Orton Design was also on display throughout the weekend of the party.
The new generation Ducati Scrambler has arrived in Madrid faithful to its non-conformist, young and dynamic style. A crowded party made the hearts of all attendees feel the power and flavor of the colorful new generation Ducati Scrambler. Luxury guests like the actor and Ducatista Maxi Churchesthe Pramac Ducati MotoGP Team rider Jorge Martin and the travelers Charly Sinewan and Alicia Sornosaamong others, accompanied us enjoying the music of the international DJ Martha Van Dam and the live surf show.
X-Madrid, where we located Ducati Madrid Sur, essential collaborators in the event, is a commercial and leisure space located in Alcorcón, a benchmark for culture and urban leisure, it was the perfect setting to host the Next-Gen Tour, sharing values and concept branded Ducati Scrambler. In addition, the SCR Next Gen Tour continued to be present at X-Madrid throughout the weekend with the exhibition of the new Scrambler Ducati range that lasted until Sunday June 4, including a version customized by the studio. Van Orton Design which will remain on display at Ducati Madrid Sur always within X-Madrid.
In fact, the graphics of the Tour were created in collaboration with Van Orton Design, an Italian duo that is among the most important exponents of European digital art, they were responsible for the image of the Tour and then got carried away by the Scrambler Ducati creativity, interpreting his own artistic identity also in the design of a unique version. This special bike fully expresses the spirit of customization that is the cornerstone of the Scrambler Ducati philosophy.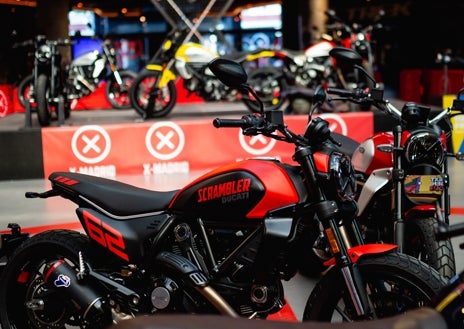 The new Ducati Scrambler models are the perfect choice for those who want a motorcycle with a unique and recognizable style, dynamic and fun, accessible and safe for daily use.
A motorcycle designed for those who seek freedom and want to share their style and way of being with others, which is projected to 2023 with a completely renewed image from an aesthetic point of view, a good 4 kg lighter than the previous generation and equipped with new electronic equipment that includes Ride by Wire, Riding Modes and Ducati Safety Pack with ABS Cornering as standard.
The look of the Ducati Scrambler easily adapts to all tastes and needs with the Icon model that is available in nine different colors thanks to the interchangeable covers and the availability of the 35 kilowatt version for A2 driving license holders.
#Madrid #final #point #Scrambler #Ducati #Tour