2023-05-31 13:21:14
Main

Economic affairs
6 hours ago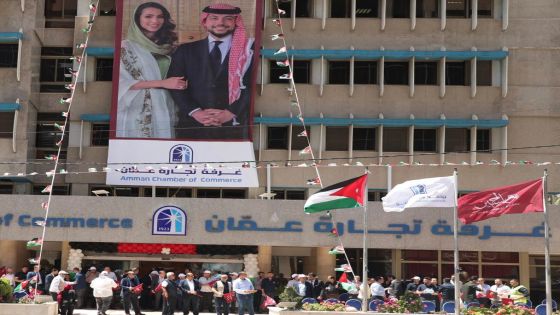 Watan Al-Youm: Today, Wednesday, the Amman Chamber of Commerce celebrated the wedding of His Highness Prince Al-Hussein bin Abdullah II, Crown Prince, with the participation of heads of trade unions and employers' associations, members of the Board of Directors and employees of the Chamber.
The ceremony, which was held at the headquarters of Amman Trade, included dances, hymns and patriotic songs that expressed everyone's joy on this dear occasion, in addition to decorating the Chamber's building, raising the Jordanian flag and distributing sweets to vehicles and citizens in celebration of the occasion.
Chamber President Khalil Hajj Tawfiq said in a speech during the ceremony that holding this ceremony was an expression of the commercial and service sector in the capital, Amman, of the joy and rejoicing of the commercial and economic sectors, the board of directors of the Chamber and its employees, with His Highness's wedding and the participation of the Jordanian family on this occasion dear to the hearts of all.
He added that the wedding of His Highness the Crown Prince represents a national event that brought joy, happiness and joy to the hearts of Jordanians, and a national wedding in addition to Jordan's weddings that we celebrate with "joy and joy", calling on the Almighty God to continue the joys of the homeland in our dear Jordan under the wise Hashemite leadership.
Haj Tawfiq, on behalf of the commercial and service sector in the capital, Amman, raised the highest verses of congratulations and blessings to His Majesty King Abdullah II, Her Majesty Queen Rania Al Abdullah, and the Hashemite family, on the occasion of His Highness's wedding, praying to God to preserve Jordan and perpetuate it with the blessing of security and stability to continue the process of construction and modernization.
#Amman #Chamber #Commerce #celebrates #wedding #Crown #Prince