2023-06-06 17:09:58
The Graduate Program in Family Health (PPGSF) of the University of International Integration of Lusofonia Afro-Brasileira (Unilab) was honored during the 1st Meeting of the Northeast Network for Family Health Training (Renasf), for joining Renasf and partnership strengthening and professional training, which seeks to contribute to the Family Health Strategy and the Unified Health System (SUS). The Meeting took place on the 2nd and 3rd of June, at Fiocruz-CE.
The Program coordinator, professor Jairo Domingos de Morais, reinforces Unilab's participation in the Renasf Network and points to the importance of spaces for the collective construction of knowledge in the quest to qualify the training of SUS professionals, especially in Maciço do Baturité. He explains that Renasf involved nine nucleating universities, capable of developing master's and doctoral programs. In a new notice, two more nucleators were approved, among them Unilab. Although there are still no classes at the PPGSF, the Program is under construction.
"Since December 2022, we have been participating in spaces, building public notices and curriculum, and participating in groups. This homage is due to the partnership, strengthening and contribution of Unilab to the Renasf network", contextualizes professor Jairo Domingos de Morais.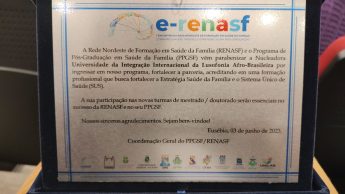 He points out that Renasf aims to encourage research and teaching in the field of Family Health, enhancing education/training actions in this field of knowledge, and strengthening collegiate instances for articulation, dialogue, negotiation and agreement interinstitutional, with a view to strengthening the SUS.
"It is an important step for Unilab to enter and share experience with a Network of intense institutional articulation with active collaboration of 30 participating entities in six states of the Northeast region (AL, CE, MA, PB, PI and RN)", says the professor .
#Graduate #Program #Family #Health #receives #honor #Renasf #meeting