Monday 8 August 2022 03:06
region

Police station Trat reveals results of French tourists suspected of contracting monkey pox
Sunday, 07 August 2022, 5:22 p.m.
Follow breaking news, current news on Facebook, click here.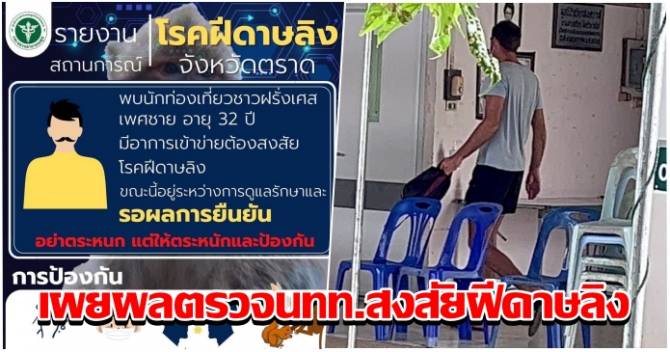 Surachai Jeamkul, Deputy Doctor of Public Health, Trat Province as a spokesperson for Trat Province Reveal the progress of the case of French tourists (first announced that they are German because of the confusion) From the investigation of the disease and bringing the blood results to be examined at the Department of Medical Sciences and at the Clinical Emerging Disease Center Chulalongkorn Hospital The Thai Red Cross Society went on August 5, 2022. It appears that the results from the Medical Science Center confirmed that Smallpox was not found in the French tourist, however, will have to wait for confirmation from the Center for Clinical Emerging Diseases. Chulalongkorn Hospital The Thai Red Cross Society that will take effect tomorrow (8 August 2022). In the past, this tourist has been in the country for a long time and has traveled to many provinces such as Phuket, Pattaya and Trat.
Mr Surachai said the tourist is currently in the quarantine room of Trat Hospital. with close supervision of doctors and nurses From the investigation of the disease, it was found that on August 5, 2022 at 10:08 p.m., that a 32-year-old male French tourist was admitted. with clear blisters on the genitals Provide a history of having had a relationship with a stranger 2-3 times and a history of receiving treatment for herpes in the past 1 month. (Unknown service facility) His symptoms did not improve, so he was admitted to Bangkok Trat Hospital at that time. This tourist has a history of traveling to Thailand at Koh Chang District for 7 months at present, Bangkok Hospital Trat have forwarded such tourists Received care at the Bat Trat Hospital which from the history taking and disease investigation fits the definition of chickenpox
The tourist is in the care and investigation of the disease by the Trat Provincial Public Health Office and Trat Hospital. If there is progress, it will be announced on August 8, 2022 by asking the people of Trat province not to panic, but to panic and follow the news as the public health advises. can be transmitted through direct contact with the wound or the patient's respiratory secretions or touching objects that are contaminated with secretions, such as clothing, pillowcases or bedding. But such infections are not easily contagious. It can be transmitted through very close contact, so be careful and reduce close contact with strangers to reduce the risk of infecting a small worm. And it's also a protection against other sexually transmitted infections.
Follow breaking news, current news on Facebook, click here.