Without much fanfare, the southern port city of Ashdod has become a focal point for day trips in recent years. The city manages to establish a name for itself as a tourist destination for Israelis who want to travel not too far and combine culture, cuisine, shopping and other indulgences. Here are some options for daily entertainment on the cool days.
If you're visiting the city, don't miss a trip to one of its fascinating cultural spaces – Ashdod Museum of Contemporary Art. The museum, which has been operating for about 20 years, presents about three major rotating exhibitions every year. These exhibitions are spread over the three floors of the museum, and the thread connecting them is that they all touch on issues of local Mediterranean identity, multicultural and diverse – just like Ashdod itself.
These days the museum is showing a retrospective exhibition of the artist and photographer Jarar Alon. The exhibition, which will be on display until the end of May, presents photographs of the artist from the late 1960s until the year 2022. Alon was born in 1949 in the city of Casablanca and immigrated to Israel after the Yom Kippur War. In his first steps in Israel, he tried to capture with the camera lens the painful Israel, which is trying to recover from the difficult times.
After dealing with issues of war for years, he began to engage in commercial photography and established his position in the world of fashion, theater and record covers. Many of our country's celebrities were behind his lens. The exhibition is an excellent opportunity to see the change that the artist has gone through over the years, and in the process to see a mirror that reflects the changes we have gone through as a society. Wandering through the exhibition you can see some of his great works, and along the way identify the artists, who were at the beginning of their career at the time, who decorate the pictures, such as Shlomo Artzi, Meir Ariel, Ofra Haza, Mati Caspi and others.
Ashdod Museum of Art, Derech Eretz 8, Ashdod.
Phone: 08-8545180. Open all week.
Ashdod Visitor Center
Many times we get to travel around the country, whether it's in nature or in the cities, but we don't really get to know the history behind every path or every stone. In Ashdod, they decided that the story of the establishment of the port city should be an essential part of the tourist experience and opened a rather impressive visitor center, which includes an interactive activity complex that tells the story of the city in an experiential way for people of all ages.
When Israel was a young country and started to be built, they didn't always think about what it would look like in a few decades. Evidence of this can be seen in the capital Jerusalem or busy Tel Aviv, where it seems that they planned streets out of order. From this point of view, Ashdod is different, because when its construction began in 1956, in a sandy and desolate area, it was planned with a vision for the future. In its visitor center, which is a few meters from the sea, you can see the city from the day it was founded until today.
The journey begins with a short film, and from there you go out into a large space where the different periods are shown in several activity stations such as a virtual bicycle journey with VR glasses in the main sites of Ashdod, a surfboard station for an especially Instagram selfie, a corner of lounge chairs overlooking the sea, a game where you will step into the mayor's shoes and make decisions about The future of Ashdod and more.
Guided tours for organized groups take place in the center by prior arrangement. Families and individuals have guided tours every Monday at 11:00, every Wednesday at 17:00 and on Fridays at 11:00 once every two weeks.
Beit Aryeh Klang, Yair 2 Ashdod.
Phone: 08-8545805
Entrance price: NIS 20-25.
To order tickets: visitashdod.smarticket.co.il

A moment of indulgence
Although Ashdod is one of the largest port cities in the country, a real hotel culture has not yet emerged on the coastline. As a result of this, the culture of pampering days in a fancy hotel spa is also less popular here, but in this place in the city itself you can find some hidden gems that offer real pampering. And as befits pearls, sometimes you have to look for them in the most unexpected place. In the heart of the city, in a fairly ordinary neighborhood, the old Nirvana Spa is hidden. The spa is housed in a very old building, so at first glance you might be quick to judge it negatively – but the spa that Gennady and Tatiana have set up instead is simply a different experience.
The spa, which the two define as a "Japanese spa", they opened in 2015 in what used to be seen as the city center. After you take the somewhat creaky elevator and enter their website, you definitely enter a mini-Japan with spaces filled with wood and peace. Here the two also combine their specialties, Tatiana – facial treatments and cosmetic treatments, and Gennady – chiropractic and medical massages, accompanied by a professional team of therapists. Unlike a standard spa, here you can find a hammam room (without steam) with a heated bed on which treatments are performed – among others chocolate treatment and peeling; Wooden barrels that function as a personal sauna where the head sticks out, so you don't experience the breathing difficulties like in a normal sauna and more. Among their unique treatments you can find a rice treatment, where the body is lightly exfoliated with a bag of rice followed by a relaxing massage that encourages blood circulation; Massage with fresh orange and cognac, and more.
Nirvana Spa – Rogozin 43, Ashdod.
Phone: 08-655666, also open on Saturdays.
Price: from NIS 560 per couple.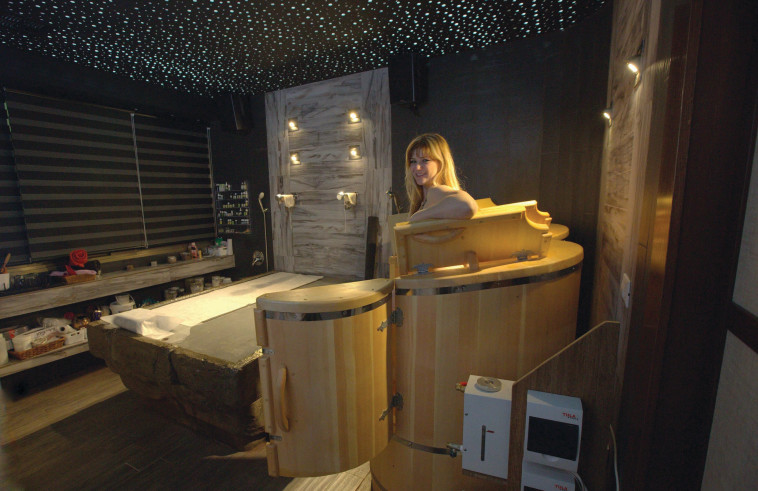 "Cafe Doga"
It turns out that Ashdod's old passages and buildings are the hottest thing there is, because not far from Rogozin Street is another hidden gem known only to the locals – the "Doga" cafe. The slightly hipster cafe is located in the city center, but it is hidden in a quiet and pastoral street where the chef's restaurant "Balzac" used to be.
"Doga" is a dairy cafe with a tiny kitchenette, a closed and intimate space where you can enjoy a coffee and disconnect from reality, and a large passage yard where tables and chairs are scattered that look like they were taken from the 90s, which adds to the neighborhood-hipster atmosphere. The "Doga" menu includes breakfasts, sandwiches and toasts, salads, pastas and fish. Everything from everything, as expected from a cafe. If you start the day there, you can indulge in brioche with poached eggs, a classic breakfast; "Shaoli toast" with pesto and tomato spread; "Crazy egg yolk sandwich" in brioche with cream, rocket leaves, manchego and egg yolks. If you arrive later, don't miss out on the excellent pastas.
"Cafe Doga", 11 Hashel St., Ashdod.
Phone: 054-6456333, open Sunday-Thursday 8:00-23:00,
Fri 8:00-17:00.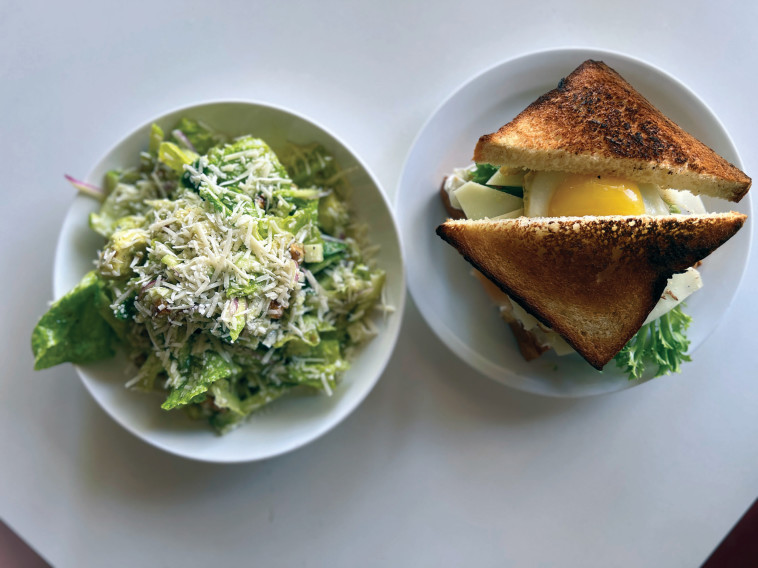 "Alma" restaurant
Not many know this, but in recent years the Ashdod food scene has undergone a revolution, and has become a favorite of foodies. In the city and along the coast there are quite a few good restaurants that have long since become institutions, and new and intriguing restaurants are opening all the time. The "Alma" restaurant, located near the beach of Ashdod, is somewhere in the middle – although it is not yet a long-standing establishment, but after six years of operation (including a devastating corona) it is still standing and kicking and offers a modern menu that compliments the local fish and vegetables of our country.
Alma's menu is simple and clear, and includes quite a few excellent vegetable dishes such as roasted leeks with Bulgarian cheese, grated tomatoes and greens; Baked sweet potato on sour cream; Roasted eggplant with burnt tomatoes, tahini and olive oil; Stir-fried artichokes and beets with spinach on creamed corn and Parmesan, and more. Not too sophisticated dishes, but very good.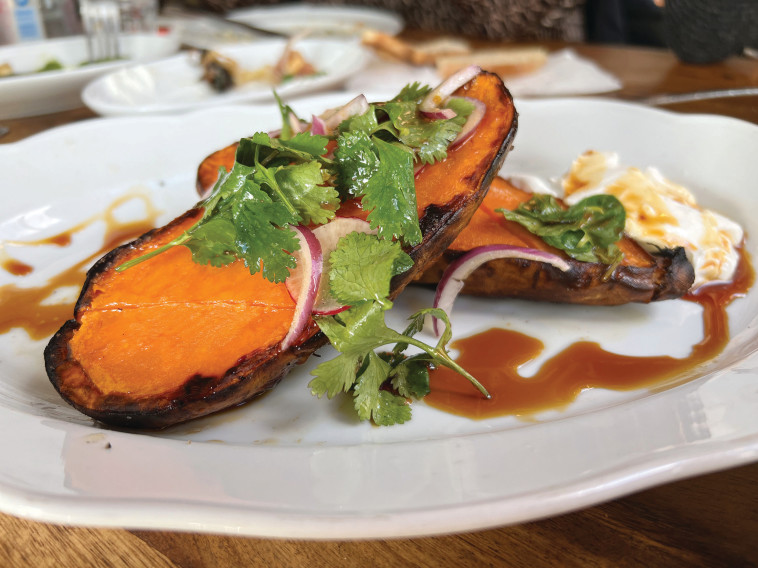 Alongside them, of course, there are great fish dishes, such as sea fish shawarma with tomatoes and burnt onions on bread; "LG Boomer" – sea fish in the oven and potato in the oven with burnt tomatoes and onions, sour cream and thyme. Those who avoid fish, can also find some pasta and risotto dishes. In general, the concept here is of shared dishes, so you can have the overall experience. If you are very hungry, they also offer a "round table" option – a tasting meal that combines a good amount of the restaurant's dishes.
"Alma", Yona Hanavi 2, Ashdod.
Phone: -053-9633885, open all week.