During the Sabbath, the trend in the crypto market reversed – or at least in part – when Bitcoin and Ether, which led gains in recent days, moved to declines. Despite this, the other currencies continued to rise and the market as a whole rose thanks to this, according to the CoinGecko website, by 0.3% per day and 3.8% per week, to a value of 893 billion dollars.
As mentioned, the two oldest and largest currencies, Bitcoin and Ether, recorded declines. The first dropped by only a tenth of a percent, and the second by almost a full percent, to prices of $16,975 and $1,273, respectively. Compared to last Saturday evening, they are at higher values ​​by 2.7% and 6.2%.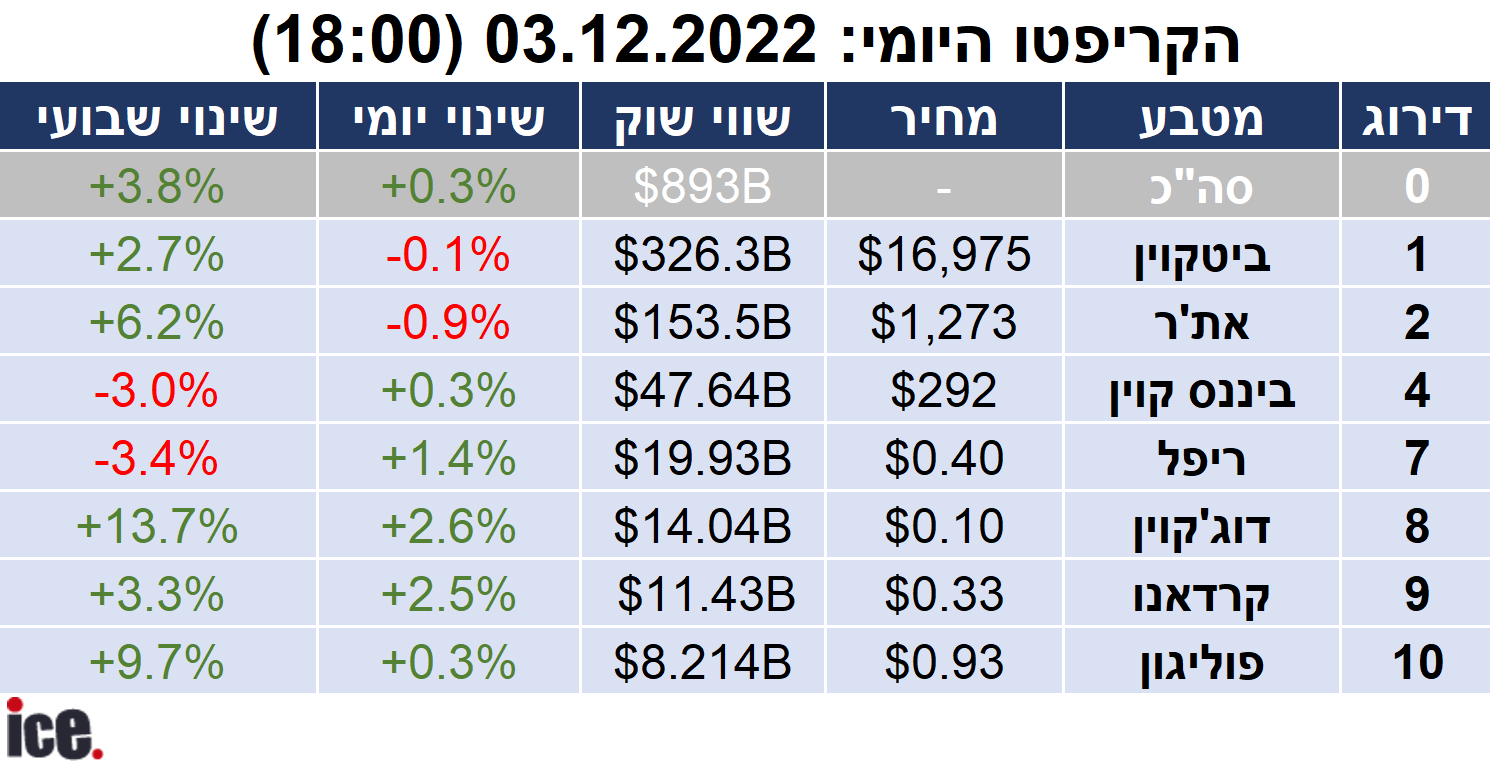 Binance Coin, the currency of the largest trading exchange for crypto, which is now trying to get the market out of the crisis it has fallen into in recent months, recorded a slight increase of less than a third of a percent per day, and compared to the previous week, it recorded a decrease of 3%, to a price of 292 dollars and a market value of 47.6 billion dollar.
Ripple rose 1.4% on the day but fell 3.4% on the week, to a price of 40 cents and a market value of just under $20 billion.
More in-
Dogecoin was up 2.6% on Saturday, but its weekly jump was significantly reduced to just 13.7%, with a price of 10 cents per coin and a market cap of $14 billion.
Cardano rose 2.5% on the day and 3.3% on the week, to a price of 33 cents and a market value of almost 11.5 billion dollars.
And Polygon remains relatively stable with a slight daily increase of 0.3%, which is a jump of almost 10% for the week, to a price of 93 cents and a market value of $8.2 billion.
Comments to the article(0):
Your response has been received and will be published subject to the system policy.
Thanks.

for a new comment
Your response was not sent due to a communication problem, please try again.

Return to comment