In the German federal state of Brandenburg, where Tesla is building its first European gigafactory, it's not hard to meet Elon Musk's ardent fans. Almost every day they gather on the outskirts of the village of Grünheide: through one of the gates of the construction site, people with cameras or smartphones are looking at and filming the progress of work.
"It's incredible how fast structures are being built here," says the young man to >. "Why is work on German construction sites going so much slower?" he asks, pointing to one of the constructions. "I was here two weeks ago, and there was nothing, and now it's almost over." He shakes his head in admiration and disbelief. "It looks like everything is very well organized by Tesla," added the man's companion. It will be something outstanding, she said, here in Brandenburg, "after we have seen many other projects that ultimately failed."
Tesla expands the project without waiting for the opening of the gigafactory
The Tesla Gigafactory near Berlin will be larger than originally planned. The company's revised construction proposal now includes the world's largest battery plant, along with a plant to make the electric vehicles themselves. "Who knew about us before? Almost nobody," says > Pamela Eichmann, head of the regional branch of the Social Democratic Party (SPD) in Grünheide, which has been supporting the Tesla project from the outset. "The entire region can now look forward to new development opportunities thanks to this project, which has made Grünheide famous all over the world," she said.
Germans are surprised by the speed of construction work of the Tesla gigafactory
According to Tesla, only at the gigafactory, if it works at full capacity, it is expected to employ about 12 thousand people. Production was originally scheduled to begin in July this year. But a delay of several months is possible, since the additions to the construction plan require a thorough check by the regional authorities and the public. "The original production start date was overly ambitious anyway," says Pamela Eichmann, who sees the project as a boon for the region. According to her, earlier "masses of young people left here because they did not see any future or work here," and now a lot will change, "as Tesla will attract many other firms and suppliers to the region."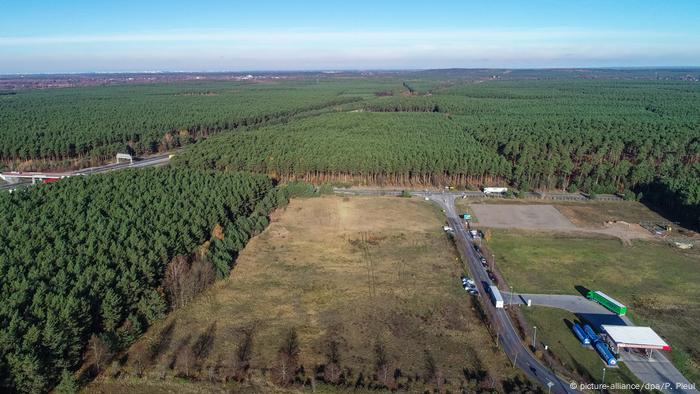 Dozens of hectares of forest were cut down for Tesla's gigafactory
The delay in putting the plant into operation annoys the head of the company, Elon Musk. In early April, he complained that 16 months after the initial application, no specific date had been given for the final approval of the gigafactory project, forcing Tesla to move forward at its own risk based on prior approvals. Fears that Musk will get tired of German red tape and build his European gigafactory somewhere else have not yet been confirmed, and Eichmann hopes that they will never be confirmed: "The decision-makers will cooperate as much as possible so as not to jeopardize the project ". In her opinion, Elon Musk "will not get together and will not leave," since the project has already advanced too far.
Construction in the water protection zone
Local opponents of the project are sharply dissatisfied with both the speed of implementation of the project without its final approval, and the fact that the plant is partially located in an area with large reserves of drinking water. Critics include Manuela Hoyer, who heads the Grünheide Civic Initiative, which was created to protest the planned gigafactory. "Regardless of whether there is a delay now or not, I am not happy with the whole procedure as a whole," Hoyer told >. "I believe that an enterprise of this size should never have been allowed to build in a water protection zone."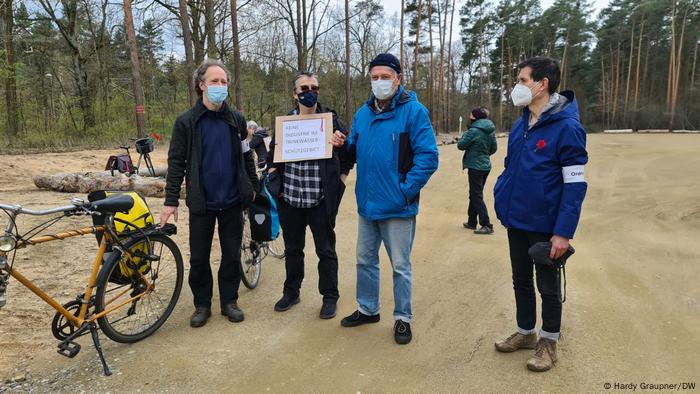 Manuela Hoyer (with a poster) opposes the Ilona Mask project near Berlin
Civic activists and many locals are worried about the sheer amount of water the Tesla plant will consume every day. The region's groundwater level is already declining rapidly after three hot and dry years in a row. Hoyer recounted seeing a TV report about the company's illegal water pipes, which reinforced her belief that the German authorities were turning a blind eye to violations. "Regional environmental authorities only conduct spot checks on site, but obviously these checks are not very effective," she says.
Does the activist think that opponents or politicians could end up thwarting the project? "In theory, it is always possible to stop this project, but politicians will most likely not do this, since a lot of money has already been invested in it," said Manuela Hoyer.
For supporters of the gigafactory, its advantages outweigh the disadvantages
It's not that local supporters of the gigafactory don't see the plant's potential shortcomings and its expected negative impact on the environment. In their opinion, much more environmental benefits come from Tesla's desire to develop electric mobility, which will make it possible to eliminate the classic cars with internal combustion engines.
In an April statement, Tesla executives called it a "blatant problem" that "the current regulations and laws deal with projects that fight climate change and those that accelerate it." Musk first announced his plan to build a gigafactory outside Berlin in November 2019. In April of this year, he said that Tesla's goal to start production in Grünheide just 20 months after deciding where to build the plant is "not ambitious, it's a simple necessity."
"We must urgently stop climate change, and electromobility can contribute to this despite its current shortcomings," says Manuela Eichman. In her words, "we just don't have time to talk about things forever."
See also:
.