In the first quarter of 2021, cybercriminals stole $ 108.3 million from various blockchain projects, according to AtlasVPN. This is 46% more than a year earlier. The trend of 2020 to reduce attacks on the blockchain has not resisted, and experts no longer consider this technology to be reliable protection against intruders.
AtlasVPN researchers carried out their calculations based on regular statistics on losses from hacker activities, which is carried out by the specialized company Slowmist Hacked. In addition to losses from hacker attacks, the total amount of damage to blockchain projects also includes fraudulent activities. They account for 20% of losses.
Criminals have been most successful with decentralized applications (DApps) for the world's second most popular cryptocurrency, Ethereum (ETH). As a result of 11 hacker attacks and the use of 5 fraudulent schemes, the attackers managed to steal a total of $ 86 million.
In second place in popularity among criminals are digital wallets on the blockchain. In the first quarter, hackers carried out 9 attacks against them, 2 extortions and used 1 fraudulent scheme. Users and platforms lost $ 19.3 million.
Cryptocurrency exchanges are in third place in terms of losses – $ 2.9 million. Criminals were able to hack trading platforms 4 times and successfully used one fraudulent scheme.
For several more years, blockchain projects were considered hacker-proof. However, experts now doubt their reliability. At least five common methods of attacks against blockchain are known.
51% Attack – A user or group of users gains more than half of the hashing power of the blockchain network. This allows you to rewrite the history of transactions, replace them or conduct double transactions.
Typesquatting – registration of domain names of sites that are similar in name to the known ones. Attackers create fake sites to collect data from users of a specific blockchain project, for example, a cryptocurrency exchange – logins, passwords, verification data, etc. After that, funds are stolen from crypto wallets.
Link-layer attack (routing attack) – an attack on the local networks of an Internet provider with the aim of replacing part of the traffic with fraudulent ones, which the system can perceive as data from real users.
Sibyl Attack is similar in principle to DDos. One or more nodes on the network are experiencing a sharp influx of requests from fake or compromised IPs, which causes a failure.
Phishing – sending users fake links to fraudulent sites masquerading as cryptocurrency exchanges and other legal blockchain projects.
The rise in hacker attacks against blockchain projects and platforms earlier this year – a total of 33 attacks – came after a notable decline last year. In the first quarter of 2020, only 13 attacks were recorded, notes AtlasVPN. In the first quarter of 2019, an absolute record was recorded – 62 attacks.
In total, in 2019, hackers carried out 133 successful attacks on the blockchain for a total of more than $ 4 billion. In 2020, the total number of attacks dropped to 122, and the volume of losses – to $ 3.8 billion. Last year, digital wallets were the most popular target for attacks. , which accounted for 80% ($ 3 billion) of damage.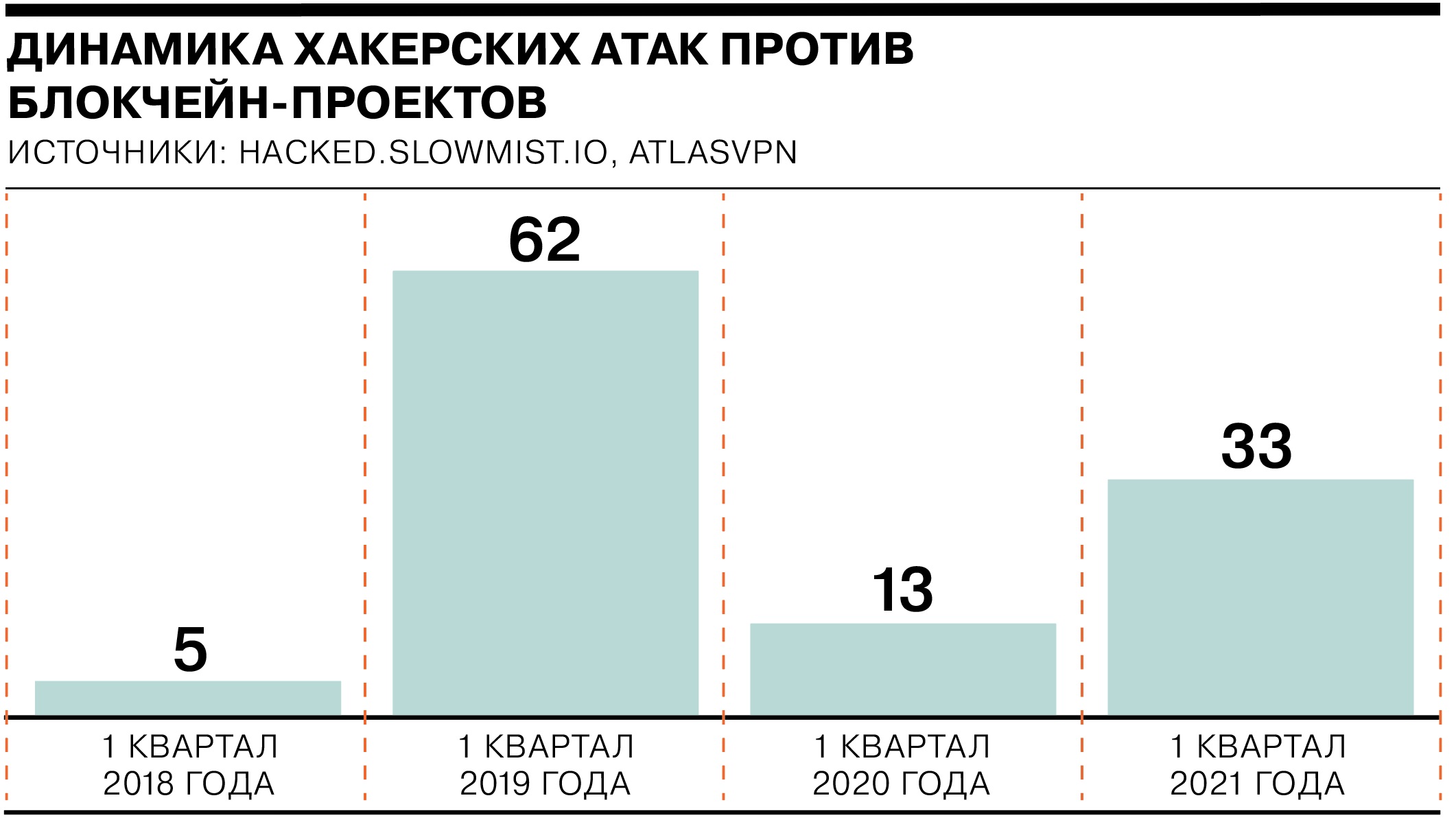 Since the beginning of this year, the number of crimes has grown every month: in January, 8 attacks were recorded, then in February – 11, and in March – 14.
The number of attacks against ETH DApps this year jumped from 3 to 16 compared to last year, and against digital wallets from 5 to 12. The number of successful attacks on cryptocurrency exchanges increased from 3 to 5.
Researchers draw attention to the fact that this year has not yet recorded a single attack against decentralized applications for working with the Tron cryptocurrency (TronDApps). Last year they lost $ 10 million to hackers.
.