How the duet Masha and Masha was formed partly against the logic. A graduate of the People's Artist, Maria Zaitseva, on the wave of the popularity of the project, found herself in the girl group "Assorti", but the specifics of work in the production team quickly bored her. After the group "Naomi", where the singer performed later, did not live up to all expectations, it might seem that the artist is rapidly leaving for the second echelon without much chance of getting out of there.
A chance acquaintance of Masha Zaitseva with the rap-enthusiastic poetess Masha Sheikh suddenly changes everything. The girls became like yin and yang in the sense that their songwriting methods unexpectedly coincided and complemented each other. Now "2Mashi" is already three albums and far-reaching ambitions. In the midst of another catastrophic summer for the industry, ZD finds the duet members in a good mood and even doing something.
– We are at work, we are in Obninsk and are preparing to perform at the City Day, – Maria Sheikh cheerfully informs.
– That is, you are one of those happy artists who are on tour now …
Masha Zaitseva: – Thank God, life goes on. Of course, there are difficulties: tours fly off, a lot of cancellations and transfers due to restrictions. But we are optimists and try to think good things. And we do not slow down in work, recently a new song was released, which is called "Ship-Sadness", there is a video for it. And the indicators are not at all sad. Another new track is ready, which we will premiere soon. Still, we think that now artists should delight people with their creativity as often as possible.
– Everything connected with the creation of this joy, you carry exclusively on your fragile shoulders. No production centers, no third-party management. A bit hard, probably?
M.Sh .: – Now it's not so hard as at the beginning. Of course, there were difficulties, because I had to trust only my instinct. Now the path has already been trodden, and people have appeared, these are the concert director and administrator, whom we ourselves have found and are confident in. But we were not in production centers, we are not, and we control everything that is connected with us on our own.
– On the one hand, the absence of Karabas-Barabas can be a big plus. You don't owe anything to anyone, and all successes, like defeats, belong exclusively to you. But, probably, there are times when you so want to hide behind the broad producer's back?
M.Sh .: – It's easier for us, because there are two of us, and when someone has doubts and fears, then the second person does not have these doubts and fears. It turns out a balance. We have not yet had a situation when we would like to hide behind someone or ask for help. We are not at all those who like to hide.
– I think that even psychologists agree that the female type of thinking is more emotional and spontaneous than the male one. It turns out that everything is doubly emotional and spontaneous with you. Are there explosions?
MZ: – We are probably one of those girls who know how to balance each other. And if one gives emotions, then the other tries to level them. Of course, there are times when we do not understand each other. But this happens to everyone. For the sake of a catchphrase, we can say that sometimes we break the dishes.
– Was your participation in the national selection for Eurovision the result of an emotional impulse or a decision of a cold mind?
MZ: – It was a sudden, I would even say, a sudden call from the channel, and there was practically no time left for preparation. We quickly wrote the song and performed with it in an excellent, by the way, company with Therr Maitz and Manizha. We thought there were three great rooms.
M.Sh .: – In any case, this is an interesting experience, and we enjoyed it, but speaking on the topic, we would like to try again, then yes, we would. But first of all, we would like more time to create a song, so that not two days, but as long as it takes for a number that we would be sure of.
– In this whole Eurovision carousel there is a moment that, apparently, alarms the artist. Your fans may not like all of your songs, but their overall reaction is kind. And the Eurovision participants have to endure rather biased assessments of people, on which they, perhaps, do not count as their potential audience …
M.Sh .: – We understood this well when we agreed to participate in the selection. They write really anything, and you need to be ready for this. But I think we have something to say to the public not only in Russia, but also in other countries. In my opinion, we are quite an interesting project to be represented at Eurovision. But we only want to be there with the song we write ourselves.
MZ: – By the way, this is a fundamental moment for us. We always write all the material ourselves. And first of all, it is very important for us that we ourselves like the song with which we could enter the competition. In our opinion, Eurovision is a very subjective competition. Very often the numbers that I personally liked were in the last places. And vice versa.
"You could probably get attention there. With female duets at Eurovision, as a rule, it is sparse. And if you remember the success of Tatu in Riga …
MZ: – Tatu, in principle, managed to become a team that is remembered all over the world. They are probably the only ones from our show business that have become very popular outside of Russia.
M.Sh .: – And they are still remembered. When it turns out abroad that you are from Russia, many immediately give out their first association – Tatu.
– When you just started your project, it was immediately clear that the duet would turn out?
M.Sh .: – No, at first we composed a few songs, and when we realized that people like it and they even asked to write more, we decided to name ourselves somehow and release the album. So we became a duet.
– You have a slight age difference, but nevertheless you are from different musical eras. Masha Zaitseva, most likely, was inspired by pop music of the times when they mainly sang, and Masha Sheikh, apparently, was already covered by hip-hop. In a sense, you have to speak different musical languages ​​…
MZ: – I think this is one of our highlights. Masha and I are really different, but we always come to something common.
M.Sh .: – Probably, it should have happened that people with different preferences in music suddenly found a friend a friend. I think if ten years ago someone had told me and Masha that we would be performing as a duet, it would have seemed to us some kind of joke. But it coincided, it seems to me, this is fate.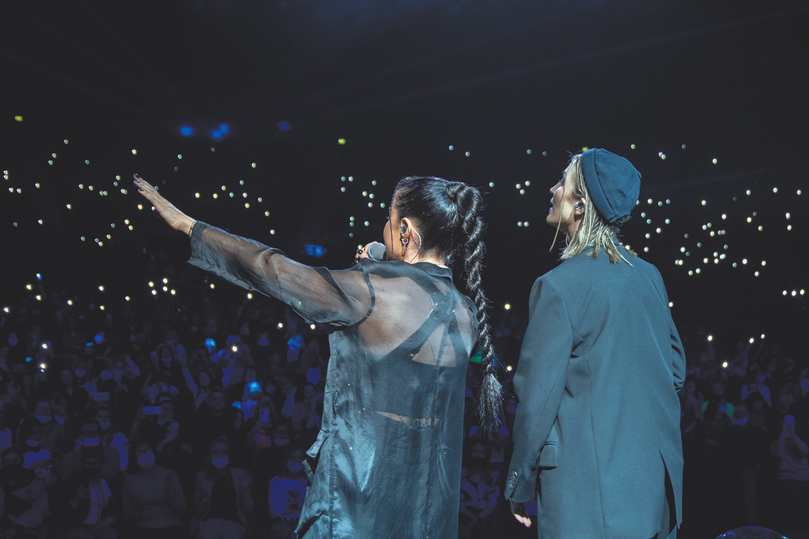 – What do you usually listen to for fun?
MZ: – My music is mostly foreign and quite old school.
M.Sh .: – I listen to a lot of things, including radio, in order to understand what is in trend now. And also 2Pac, old albums of "Caste", the group "Triada". You can say that I learned to rap on this.
– A question for Masha Zaitseva. You already have a rather long musical career, in which there were not the most joyful moments. You left the Assorti group as a result of disagreements with the producers. Group "Naomi" also, in general, "did not fire." In such a situation, the singer has not so many chances to regain popularity. Have you had such disturbing thoughts?
– I never doubted that everything will work out for me. She never gave up and never imagined her life outside the stage. Music is my oxygen, and without it I simply cannot imagine my existence.
– Now a question for Masha Sheikh. At the moment you met, did you realize that this is the same Masha Zaitseva from Assorti and Naomi?
– Before meeting with Maria, I did not know anything about the group "Naomi" and was remotely aware of the "People's Artist", but I never watched this project. At the time of our acquaintance, Masha went to the "Voice", and I was in her support group. But then we both did not even have a thought about a duet.
– To you, as a girl who learned to rap, pop music, probably, seemed to be something completely out of fashion?
– In our team, I am responsible for the entire text part, and I have a suspicion that I have always wanted to deal with songs. But I am not a singing person and I could not have done anything without the best, in my opinion, Maria's voice. Songs often come to me in the form of rap, but then they somehow begin to be altered, and it turns out completely different. Although I do not exclude that someday I will want to make an album with yard rap from my school days. I really like it too.
– Over the past couple of years, when this outlandish tik-tok-pop appeared, even quite young artists could feel like old people who do not understand anything. How do you feel about short songs that start with a chorus sung by bloggers?
MZ: – We were not afraid at all. We have our own niche, our own understanding of our musical movement.
M.Sh .: – The new fashion will not select fans who value us for certain songs, for our meaning and message. We are not chasing trends at all, although, perhaps, over time, we will join TikTok.
MZ: – The main section of our audience is already adults. According to statistics, our main audience is between 25 and 35 years old. And also those who are from 35 to 45 listen to us. It is unlikely that they are carried away by TikTok.
– There is also some artistic jealousy in the spirit of "and why there is such excitement around these vocal bloggers?"
MZ: – Oh, we have no such thoughts at all. To consider yourself better than someone, in our opinion, is wrong.
– Can you boast of what is called a flair for musical fashion? The ability to guess the beat that will suddenly interest everyone or some studio tricks?
MZ: – Our music is not originally built on any particular style or beats. We just laid out our songs performed with a guitar or a piano, by the way, we still do this, and people have always well perceived these tracks in their original form.
M.Sh .: – It seems to me that we were one of the first to post such raw cuts on Instagram. Some colleagues even told us that this is not entirely correct, although recently many have already done so.
– When work on the final version of the song is in progress, do you give carte blanche to the arranger?
M.Sh .: – No, we always participate in the process. There is no such thing that we sent a demo and he already does everything himself. We sit together and choose bits, instruments and everything else.
– Probably, the temptation is great to join something successful, to put a track by Billie Eilish or someone like that in the studio and say: "I want to do it this way …"
M.Sh .: – Well, to put on a track and ask to do the same, we probably do not happen. But, of course, we may like the sounds or the way the vocals are recorded, but we don't feel the need to copy someone.
– You have a very modern image. No uncles who can advance somewhere, their female musical state, in general, feminism in all its glory. Are you the same in behind-the-scenes life?
MZ: – We did not create any image. And it seems to us that the success of our project is precisely in this truth in everything. In songs, in the way we present ourselves. We didn't do anything special. We got together, we write, we live, we talk, everything is like in ordinary life. No stylists and image makers.
– Will a situation in which you suddenly feel that you are slightly behind fashion will become a reason for fuss?
M.Sh .: – If we realize that we have suddenly become old-fashioned, then we will immediately write a song about it. And if someone else suddenly feels their old-fashionedness, then the song will surely "shoot" – people will see that they are not alone.
.