Maccabi Tel Aviv will go up tonight (21:30, 5SPORT) for a game against Alba Berlin in what is considered the closest thing to an "Israeli derby", with the other side waiting Tamir Blatt And the ex Yuval Sussman. It is still a little hard to believe that there is a Euroleague team that is not Maccabi Tel Aviv that decided to sign two Israelis, and more as foreign players, but the project built for him in Alba is characterized by a long-term vision, even at the cost of staffing only the bottom of the Euroleague. So what's happened to Blatt and Sussman since joining the German champions? And what does the future hold for them?
Fans: Nationalism does not play a role
The first to sign in Berlin was Tamir Blatt, but by the time Sussman joined, it had already become an "Israeli colony," no small matter. "Fans had a long time to digest Blatt's signing, because he signed two years ago and was loaned to Hapoel Jerusalem last season," he says. Roy Vanska From the Alba-Inside blog, "Sussman joined later, but as a Euroleague player it was a legitimate move. General manager Hymar United has an excellent reputation in long-term moves and that is why the fans have relied on him during this move. Nationalism did not play a role here at all, because Berlin is a large and very liberal city, very accepting of people from different backgrounds, and in this sense it is no different from Tel Aviv. I can say that there were question marks as to whether both fit the level of the Euroleague, but Alba fans know that the club can not sign proven players. "
The journalist Robert Hussell From Big Deutschland magazine, she analyzes: "The reaction from the fans was positive. Both are well-known players, but I admit that Sussman's signing was surprising. However, it's a classic move by Alba that has traditionally signed anonymous players to the small forward position and turned them into stars – it happened with Marius Grigonis, Arturas Gidreitis and Simona Ponticio, and now it's Sussman with his high potential, so fans have reacted very positively. In the end, the fact that we have two Israelis in the group is quite a coincidence. "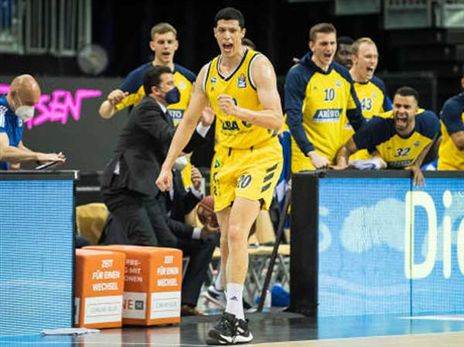 Ponticio. The model (Euroleague)
Vanska mentions that Blatt and Sussman are not the first Israelis to sign in Alba. 'A few years ago Bar Timor played here, and I remember taking him for a long and in-depth interview at the Holocaust Memorial in Berlin. By the way, the joke among the journalists here is that Alba's Israelis scored more this season than Maccabi's Israelis – 109 points shared by Blatt and Sussman compared to only 66 of Maccabi players (Yuval Sussman alone scored 66 points this season – RK).
"Queen Pangus for the Poor"
Unlike Sussman, who has already gained mileage at the factory, for Blatt this is a rookie season in the Euroleague. "He's a very interesting player to me," says Hussell. He's excellent at ball leadership and pace control, but surprisingly his shooting isn't good enough right now, so he has a lot to improve on at this point in the season. I'm really not sure if he can become a solid Euroleague player unless he really takes a significant step forward. Alba will give him the stage, give him the instruments and give him the minutes, and in the end it will depend mainly on him. '
Vanska has an interesting angle: 'I call him Kevin Pangos for the poor. You can not help but fall in love with his delivery ability. He has a rare game understanding and a phenomenal ability to create situations for his teammates. Of course he is still struggling in the Euroleague matches which is more physical, more athletic and stronger than he has known to date. He barely penetrates the basket, hardly does so in the Euroleague, and it is seen that it is difficult for him defensively. He does not, for example, have the tools to keep Scotty Wilbkin. He will not be a superstar in this league, but he can become a legitimate player for years to come. '
Pontecchio's big shoes
Although Sussman scores alone like all Maccabi Israelis, the dry statistics show that Zus has a lot of room for improvement: 6 points in 21 minutes, 40% for 2 and 35% for 3 prove it. "I have no doubt that Alba is expecting an improvement in his ability," says Vanska. Even the fact that he has to get into Pontiacio's huge shoes certainly does not add up. General Ohada has a lot of patience for him, but the fans always compare him to Pontecchio, claiming he did everything better. There is no doubt that Sussman is a great defensive player, but on offense he has a hard time, hesitates to take free throws and usually prefers to deliver – just as happened to him at Maccabi. The coach encourages him to take those shots but for now it is not happening. '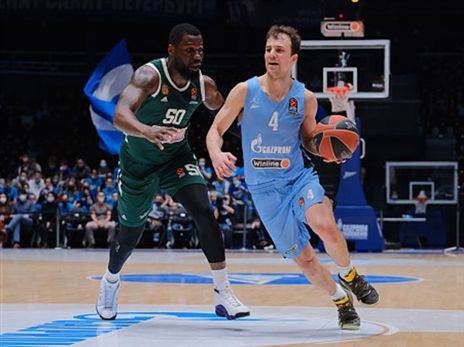 Fangus. Blatt mentions him (Getty)
Hussell: 'The expectations from Sussman are that he will make a leap. He is certainly not Ponticio, although everyone compares him to him. Alba is aiming there, the coach is giving him more than 20 minutes to play in the Euroleague, the club is investing a lot in him, and in the meantime we are not seeing the breakthrough. Fortunately for Sussman, he is in a very patient place, which sees processes rather than immediate results. '
Life in a bottom group
So far, Alba looks like one of the weakest teams in the Euroleague. It is in 16th place with a balance of 3 wins and 8 losses, and is at the bottom of the table in most of the statistical parameters. It is impossible not to wonder how this will affect Blatt and Sussman. "Alba are going through a bad season opener," says Hussell, "but I think they even exceed expectations if you analyze their staff compared to the other teams. They went through quite a few injuries, played a lot of games without one natural chin. It's hard to know how this will affect Blatt and Sussman, because right now they are still gaining significant minutes of play and it will help them continue to evolve, and that's the key word when we talk about Alba – to evolve. That's the purpose of this club. '
Vanska agrees: 'There is no pressure on Alba. They have the budget perhaps the lowest in the Euroleague and any place that is not the last place at the end of the season will be considered a success. Alba's goal is to get two more victories than last season (12 wins) so I do not think there is much pressure on the two Israelis. Of course, the large number of losses hurts confidence, but they knew in advance that Alba would not fight for a place in the playoffs. "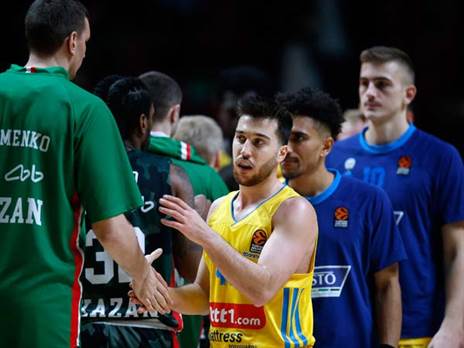 secretly. There is patience (Getty)
.