Foldable screens are a kind of promise that has yet to be fulfilled. Smartphones with this kind of screen are only now starting to become a product that the average user can purchase – at least in some models. The problem is that the technology is still very expensive to manufacture, even if it works great. If small screens for smartphones are expensive, then as you enlarge them, the price increases, which makes sense. But the question is what is the advantage we will get in large screens that can be folded. Lenovo was the first to think of this when it launched its foldable mobile that we tested last year
Here
. Now the competitor Asus also joins the competition and unlike Lenovo which focused on a small and compact computer, Asus thought big with the Zenbook 17 Fold – a computer with a 17-inch screen when unfolded. The configuration Asus chose is very similar to the one Lenovo introduced, but there are some differences.
Design and structure: a huge folding screen
Asus' idea is to produce a computer that can function both as a tablet and offer a very large screen, all in a body that can be easily moved. A folding screen fits this concept like a glove. You will find here six different working configurations: an open screen as a tablet, a screen folded in half, a small laptop configuration, an open screen resting on the built-in stand, a book configuration or a screen spread lengthwise. You can combine a lot of options here and the wireless keyboard makes it easier, since it can be attached to the screen with a magnetic connection.
The screen, which is actually also the body of the computer, includes all the interfaces and connections. The only thing that might be a shame is that the margins are a bit thick compared to the average today; I mean it's not terrible – but in a laptop configuration it's more noticeable. This will also probably be the configuration you will use the most – with the small keyboard placed on the lower half of the screen you will get a 12.5 inch laptop. A bit small but enough for basic uses.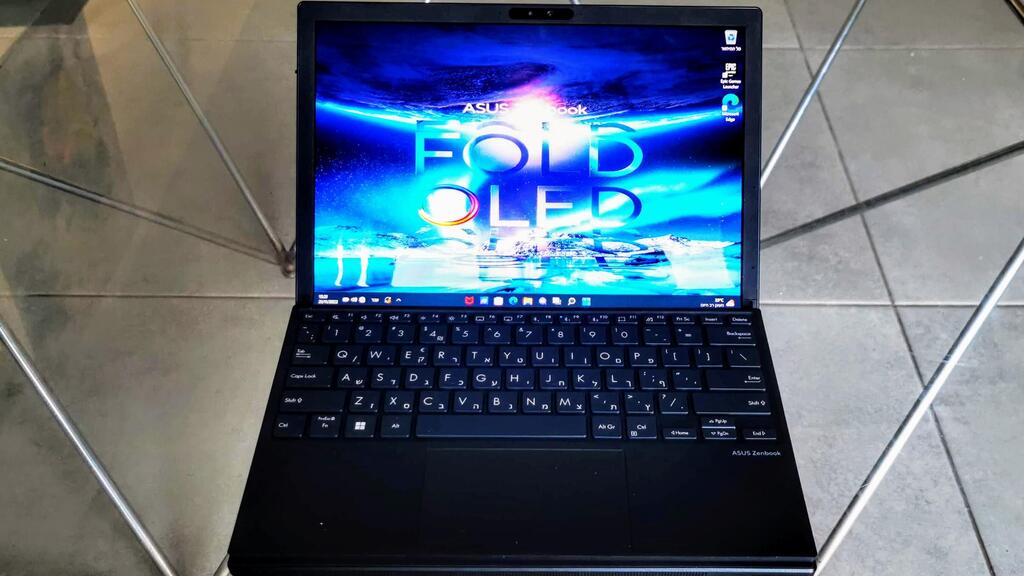 In tablet configuration, on the other hand, the situation is a bit more problematic. Let's start with the weight, which is about 1.5 kg just for the screen. This is a nice achievement since very few laptops reach this weight with 17-inch screens. But holding such a screen in your hand is not something that can be done comfortably for more than a few minutes. Naha, this screen actually Useful if you spread it out on the table and allows collaborative work. Its thickness is not excessive, about 8.7 mm when open. On the other hand, it does not close completely. As with Samsung's Fold, here too there is a gap between the two parts of the screen when it is folded. The Lenovo doesn't have this problem – but on the other hand, you can't cram a keyboard into it either – while the Zenbook doesn't have a problem. The keyboard fits perfectly into the space and now you've saved yourself the need to find a place to stuff this important accessory.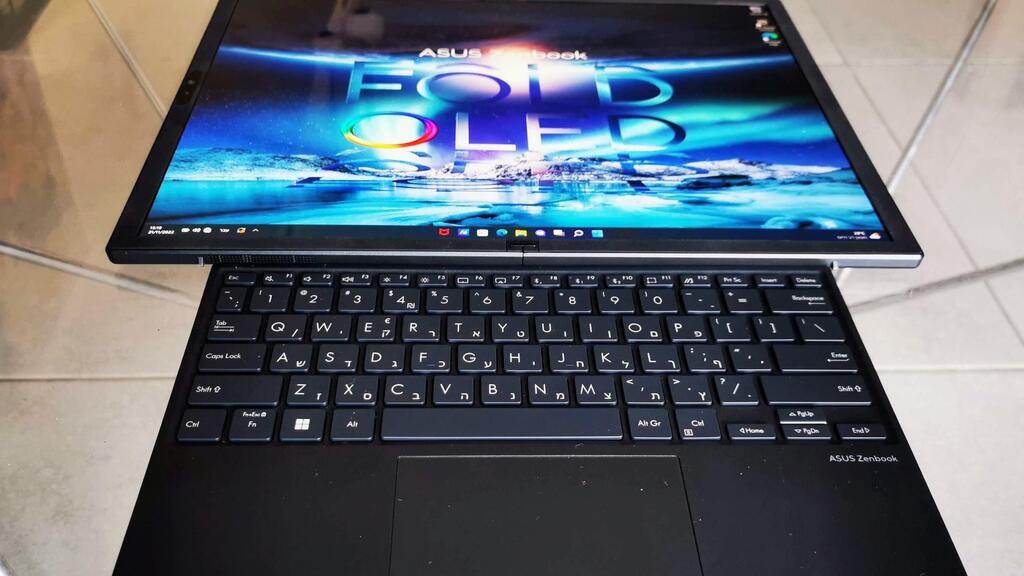 It is hard to say that the design of the Zenbook is unusual from the front. At the back, Asus actually tried to give it a bit of a magniv section, but in my opinion it's a bit excessive. The back is coated with a kind of plastic with a finish that reflects the light like a kind of prism. There is a logo of the model and that's it. The middle part of the screen is covered by a kind of cover with a leather finish that should provide a luxurious look and from which the stand can be pulled out. By the way, this is used to place the screen on the table when it is open horizontally, but it does not allow the screen to be placed vertically, which is a shame but not bad. In addition, it is not very stable, so it is not recommended to use the touch feature of the screen in this mode if you do not want to see it fall on its back. Finally, Asus say the folding hinge is good for many years of use – tens of thousands of openings and closings. It feels very strong and there is no problem keeping the screen half open in book configuration. In conclusion, the structure is not perfect – but it meets most of the possible usage scenarios that the folding screen configuration has to offer, and that is the important part here.
Hardware: strong but not for gaming
The ZenBook Fold comes with a 12th generation Intel i7 processor that provides more than enough processing capacity. It is from the U series, which is designed for thin and light computers – that is, it is not the most powerful model in the series, but it is sufficient for 99% of current tasks, including at work. The built-in Iris Xe graphics chip is not intended for gaming at all, but is surprisingly capable of handling older titles with relative ease, mainly thanks to a generous 16 gigabytes of fast DDR5 RAM. You can also easily run Photoshop on it for light photo editing tasks or open an Excel sheet with hundreds of columns without the computer starting up. What's more, editing videos is already a bit heavy unless you are content with cutting and pasting. Do not try to perform format conversions or rendering here – it can take a very long time. The storage space provides 1 terabyte in NVMe PCIe 4.0 format, which means that it is a fast and reliable storage standard.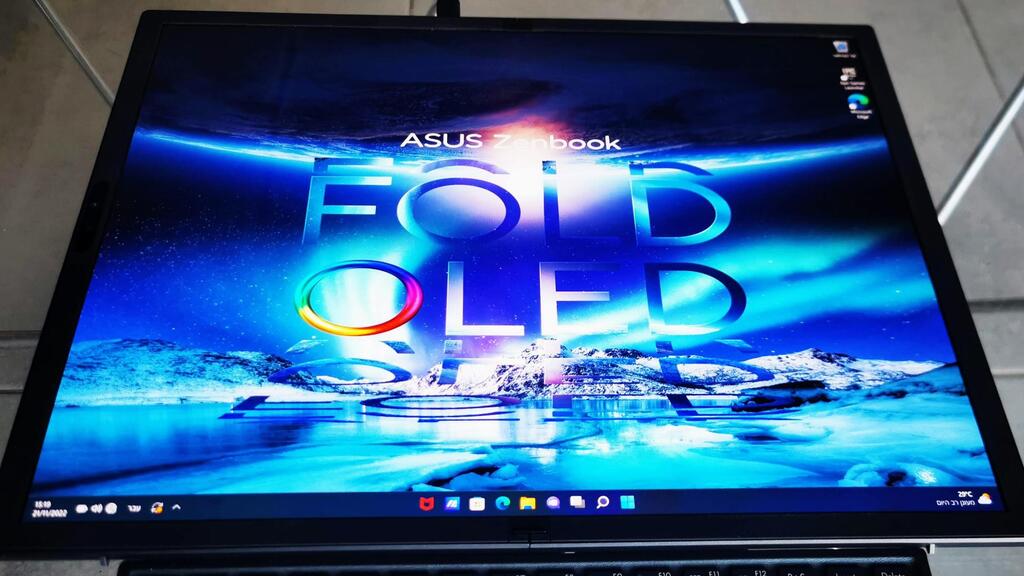 The 17.3-inch screen is the highlight here. It is an OLED-based panel with a resolution of 2,560 x 1,920 pixels, i.e. 2K. To say that the picture is excellent – does not begin to describe the quality of the display. The screen is very bright with an intensity of 500 nits which is 2 times more than most computer screens, and the display format is 4:3. That is, it provides a lot of real estate for displaying documents and web pages. On the other hand, playing movies in the traditional 16:9 format leaves a serious margin here. However for routine work tasks it is better. The only thing that bothered me a little is the screen coating which is relatively shiny for this type of screens. That is, it reflects the surrounding lighting well. But the high brightness covers it up – so we forgive the manufacturer. By the way, there is a brightness sensor that does a good job of adjusting the brightness to the requirements of the work environment both to save battery life and to improve the quality of the display. This is a feature you see mostly on smartphones and tablets and it's nice to see it on a laptop as well.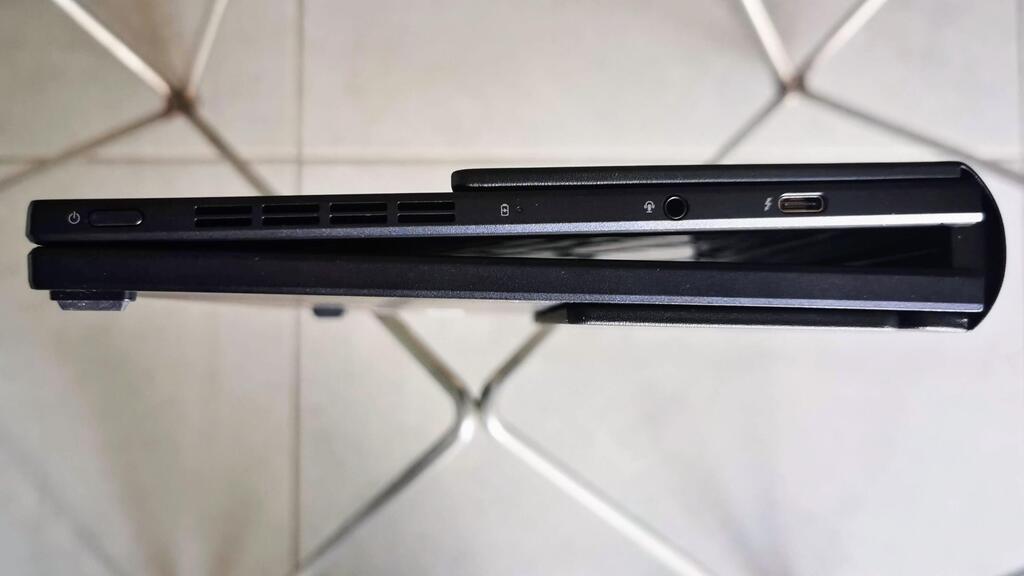 All the hardware is powered by a 4-cell battery with a power of 75 watt-hours. It is easily enough for eight hours at average brightness and even more if you turn it down. What's more, there is no fast charging here and one of the only two USB-C sockets is used to connect the charger. In addition, there is no standard USB format socket here. By the way, Asus realized that this might be a problem and included an adapter for such a socket inside the computer kit. Beyond that there is a normal headphone jack and that's it. In this respect it is a bit of a shame, but apparently the limitations of the available space did not allow more than that. What's more, the wireless connectivity standards are the most advanced available – Wi-Fi 6E AX211 and Bluetooth 5.2.
Overall, I did not find myself in any problem with regular use. Perhaps I would have been happy if there had been another USB socket for connecting a portable drive, for example at the bottom of the screen – that is, in the part that is at the base when it is in a laptop configuration – since the two sockets are at the top on both sides. For dessert, there is a high-quality webcam with a 5-megapixel resolution, which is a lot for a laptop – and which is good for both unlocking and Zoom calls.
Interface and software: a simple keyboard and an operating system not yet baked
The main problem I see with the ZenBook Fold is not related to Asus directly, but to Microsoft. The company has not yet integrated the configuration of computers with a touch screen and Windows 11 does not yet know how to handle a touch interface optimally. Quite a few buttons are still too small for touch gestures, for example to close a window or enlarge it. It's a shame because such computers have been available for several years. Oh well, maybe in ten years they'll think about it over there in Redmond.
To solve this problem, Asus has included an application that believes in completing the shortcomings of Windows in this area. It is very nice, but it is a bit annoying to use an external application to activate such features as it is a bit clumsy and impairs the user experience. There is also another application here that is used to control the different screen modes, but again – this requires messing with another application besides the Windows settings. To the credit of Asus, it can be said that it did not push too many external applications here, as is customary in the holy place.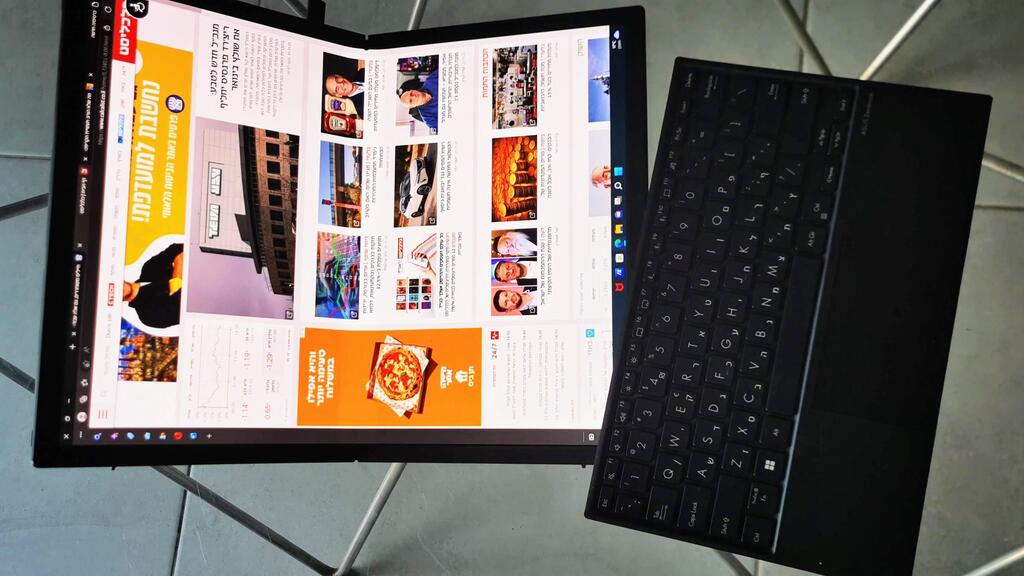 My main problem is with the keyboard. Although this is well adapted to the configuration of the Zenbook. It sits firmly on the lower part when it is folded in half and turns it into a tiny laptop with a 3:2 format screen. But it's a keyboard that reminds a bit of tablet keyboards that you can buy on Chinese trading sites. For example, it does not have a backlight for the keys. There is no possibility of a wired connection and everything is done via Bluetooth. That means you have to charge it in advance if you spend a lot of time in front of the screen at work. Long typing requires light effort as the keys do not provide as good feedback as a real keyboard gives and sometimes the letter is missed. The trackpad is relatively small, but accurate. All in all, this is not a keyboard that can be said to be perfect – certainly not in the price category of this computer. But it is adapted to the size of the screen and on the go it delivers the goods even if nothing more. I would recommend using a real external keyboard and mouse as much as possible.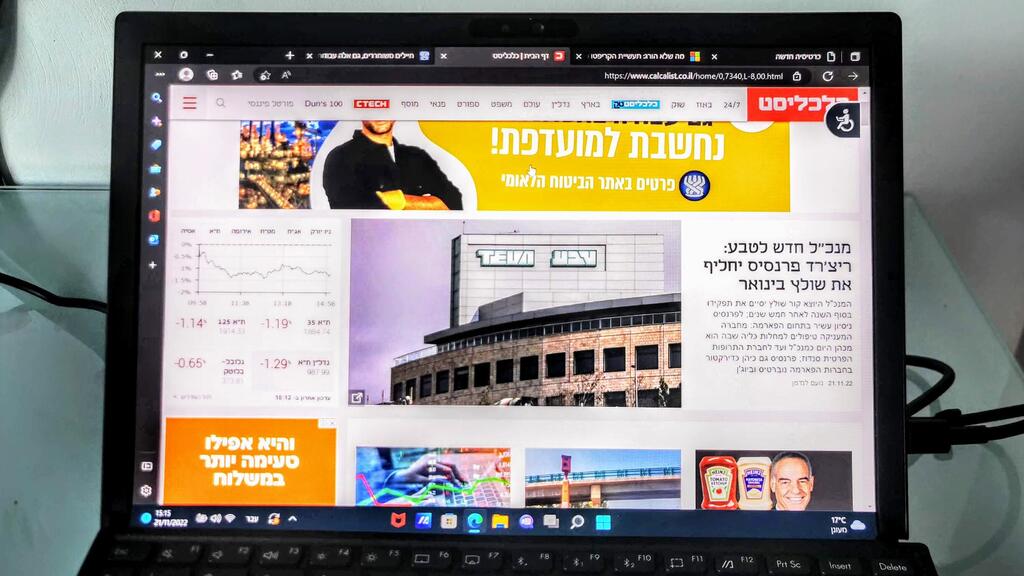 Finally, I would like to address the matter of using the different screen configurations. From my (not-very-long) experience with the ZenBook Fold, most of the configurations it provides are not very useful in real life. For example, using an open book configuration does not give any advantage except perhaps when reading an e-book or long texts. And even then, as mentioned, it is a fairly heavy screen – not something I would hold for more than a few minutes without my hands hurting.
The open screen configuration works well with the kickstand but only when used with a keyboard. And even then you can't really change the viewing angle. Using a touch endangers the screen which can easily fall on its back with too much pressure. In a laptop configuration with the keyboard on the bottom, the folding of the screen sometimes misses the display, meaning that the edges of the keyboard sometimes hide part of the taskbar.
To sum things up, Asus worked hard to make the work with the Zenbook optimal, but in the meantime some of the solutions still feel like patches and not like solutions completely baked into the system. This should be taken into account when considering the possibilities that this configuration provides.
Summary and alternatives: A huge tablet and a small laptop in the same product – but the price is too high
The price of the Asus ZenBook 17 Fold is about NIS 16,000. Yes, you didn't read the price wrong, it is even higher than a MacBook Pro with an iPhone Pro together or a gaming computer with a foldable Samsung smartphone. The only computer that competes with it in this configuration is the Lenovo X1 Fold, which is also very expensive, although slightly less than the Zenbook. That is, it is a niche product intended for a very specific type of user.
I can think of architects, photographers or advertisers and marketing people who want to show their wares in high quality to customers for example. It is not suitable for students or researchers as it is difficult to enter data. Those who type a lot will be forced to use an external keyboard only, and business people or workers on the road may also prefer a more traditional computer. On the other hand it is quite durable so maybe in certain industrial tasks it will be able to shine thanks to a military durability standard. It is not very suitable for media consumption despite the quality of the screen since the format here is not intended for watching movies for example. On the other hand, its sound is excellent – so if you are a musician, maybe it can help as a secondary studio computer. I see it more as a computer that demonstrates technology than as one designed to be successful in sales, and as such it is brilliant. But beyond that it is better to check other options before.