Who am I: The son of Masuda and Eliyahu, a Zionist Jew, Moroccan, traditional, Yeruhami. A social person who cares about people who are having a hard time, a mediocre father with a woman larger than life.
Roots: My father's side comes from a village in the Atlas Mountains, where he lived a life of sharing with the locals. Grandpa was a smart student who also knew how to support the family in agriculture. Grandma died and was buried in Morocco, and Grandpa immigrated with the family in 1963, following one of the boys, who came to Mevaseret Zion in Jerusalem. Mother is a descendant of the Vaknin family, who were known as a shrewd merchant family, who had a business in the village.
Grandpa Mordechai's children, my uncles, moved to Marrakesh and Casablanca and opened branches. Mom laughs that Dad came from a house of sages and that she knew how to make money. The parents knew Morocco. Mother was destined for someone else, and after Father consecrated her with laughter, the rabbi said there was no laughter and that they were married. Her sister married the guy instead.
When they immigrated to Israel, in the early 1960s, with five children, they wanted to come to Jerusalem and found themselves in a transit camp in Yeruham. From there they moved into a two-bedroom apartment with a living room and kitchenette. In 1980, Amidar upgraded them to a three-room apartment. Dad set up a synagogue, was absorbed into the Dimona fibers, then enlisted in the KMG and worked until ten at night for overtime. Mom cleaned the school and the homes of Mekorot workers.
My girls: There was a time when I thought my parents did not belong to my Sabra identity, and over time I realized that they were noble people and role models. There was not much money in the house, but there were values ​​and lots of love. We lived in the small apartment with nine children, parents and a grandfather. I slept with my parents until I was 6, my older brother got his own room and agreed to sleep with Grandpa, and the other siblings slept on mattresses in the living room – head to tail.
Extraordinary medical miracle: This is what happened to a paralyzed man who was vaccinated against corona
Basically, I succeeded without effort, and from the fifth grade onwards, I participated in patrols and activities in Bnei Akiva. I studied in high school, but the distance was difficult for me. I sat at home for half a year because the high school in Dimona was not challenging enough. Then my brother was killed. I asked for a second chance at the yeshiva, and one of the instructors helped me persevere until the 11th grade. I started studying in the twelfth grade, and then I decided to enlist in the Golani early. The parents signed twice – both for consent to combat service as a bereaved family and for early recruitment.
The late father: my big brother. He went to study at a military boarding school at age 14, was drafted into the Armed Forces, had a car accident, was injured, and collapsed at my sister's home a week later. I was at a Bnei Akiva summer camp and they jumped me home. It was a big break and made the parents come together and shut themselves off. Dad passed away when I was 25, on the date my brother passed away, and by a chilling coincidence, in the same hospital room and bed.
Ilana: my wife. The woman of my life, a woman of clusters who guides groups of leaders in "Orot" and guides teachers in non-religious schools on Judaism and Jewish identity in the broadest sense. She lectures in preparatory schools and leads a choir. The guide from Bnei Akiva who told me about my brother's breakdown said that I should be in touch with a girl from Jerusalem, and we started corresponding. At the age of 19, she came to Yeruham as part of the Nahal nucleus, and we got married at the age of 22. I can not tell my wife that I love her every day, so I write songs for her. I composed one of them. We have five children and we live in Yeruham.
Career: I have been involved in social entrepreneurship, education for the environment and nature and working with at-risk youth in Yeruham for years. When I felt that I had enough professional and social experience, I decided in 2010 to run for the chairmanship of the council and was elected as the replacement of Amram Mitzna, who headed the committee called. I informed the public that I would serve for two terms and retire – and so it was. After I raised Yeruham on the King's Road and retired, I formed my brother's Israeli party with Adina Bar Shalom and Gideon Sheffer, out of a belief in common good, managing disputes and finding consensus areas.
When Benny Ganz founded the Blue and White Party, I realized that the order of the hour was a union, and I joined it. After we were elected to the Knesset, I was appointed Minister of Social Affairs in the Ministry of Defense and took on the issue of protection and treatment of IDF disabled people and the security components in localities. I was also Minister of Strategic Affairs and Minister of Social Equality.
disappointment: In the current Knesset, I wanted to be the Minister of Education, Welfare, the Interior or Justice, and I would take them tomorrow. Since it was not available to us, I was offered the position of chairman of the Economics Committee. I have no interest in being a third-tier minister. In the end, and this is wisdom in retrospect, I did not know how much impact it could have. , Housing, Infrastructure, Transportation, Agriculture, Negev Galilee, Communications – and all their legislation and regulations are subject to our approval.
The teeth of the Economics Committee are our interaction with the government. They need our regulations, temporary regulations, reforms and laws, and I need them to listen to the citizens and the immediate problems that arise in the economy, with an emphasis on the cost of living and harming the weak. You need to know how to use it wisely. This is how we managed to reduce the reduction in credit facilities at banks.
Orna Barbibai: It is not my job to distribute grades to ministers. If I were in the Ministry of Economy, I would put price increases at the top of my list of priorities. The Minister of Economy can apply pressure and do things, harness the Ministries of Finance and Agriculture. The citizens are desperate and their voices are not heard. I intend to deal with it with all my might, and I do not consider it a lost battle.
Cost of living: Recently, they conducted an extensive survey in Israel and asked the samples what was most important to them. In first place was personal security and in second place the cost of living. And I tell you, the thing that hurts the most is the cost of living. I called on the Prime Minister, and I call on him again, to set up an inter-ministerial team of ministers headed by him to deal with the cost of living.
Just as there is a security cabinet, there should be a cabinet for the cost of living, with the participation of all the ministries concerned with the daily subsistence of the citizens, and they should be bold. When there are increases that we perceive as manipulative, such as price coordination between food chains, they need to be addressed on a point-by-point basis.
struggle: I intend to conduct research within the committee on the 20 entities in the economy that hold the production and imports. We will reveal what their profits are, most of which are not reported to the public as the companies are not traded on the stock exchange. There are importers and manufacturers at all: we will never earn less than we earned before. We will summon their managements for a discussion with us and demand answers to the question of whether it is possible to settle for a modest profit and lower prices and not just raise them. We alone will not be able to win this war, but this issue cannot be allowed to perish.
boycott: The citizen should boycott monopolies. Food chains reached record profits last year, and they do not have to raise prices. In the State of Israel there are several bodies that need to be fought. There is the Competition Authority, which needs to be more aggressive, and a new director has been appointed from within the organization – Michal Cohen, who did not enter through a revolving door from a conflict of interest organization, and I hope it will be determined and biting, announcing new monopolies and imposing restrictions and fines of up to NIS 100 million. For those who break the rules of competition.
Severe punishment: All authorities should be bitten against cartels, monopolies and duopoly that oppress the public. When hundreds of millions in fines are imposed in one year, it will be a year of upheaval. They will not do any more manipulations on the consumer because it will not pay off for them. The trick is not to put one person in jail. If they do not hit five organizations together, we will not see them calm down.
Alongside the Competition Authority there is also the Consumer Council and the Consumer Protection Authority. We filed with the Consumer Council a class action lawsuit against the banks, and it was accepted. The bodies in the economy should know that our eyes are on their backs, and these two authorities must work and not procrastinate, with the supervision of the banks and the Securities Authority. The import reform is an important component in reducing the cost of living, and it joins the open banking reform we have passed. Since the Standards Institute is supposed to be harmed by it, we demanded that the employees be transferred to supervisory positions for its implementation in the field.
Agriculture reform: It is a mistake for the Minister of Finance and the Minister of Agriculture to take unilateral steps without consulting the other side. It hurts farmers and the coalition because the issue is sensitive. I have dealt with the reform in the laying industry, and it will continue to be planned and managed in the opinion of the heads of the industry a year ahead and then we will continue. The fruit and vegetable reform will not work in committee without dialogue between the parties as we have done in open banking, exports and imports.
Unilateralism can come with lowering tariffs on imports, but it is not a complete step and it will have consequences in politics as well. I intend to be a leader of agreements. Yes, it is necessary to make the reform, to make sure that agriculture is technological, makes better use of the land, is ecological and encourages young farmers to enter the industry, but it cannot be done with an ax.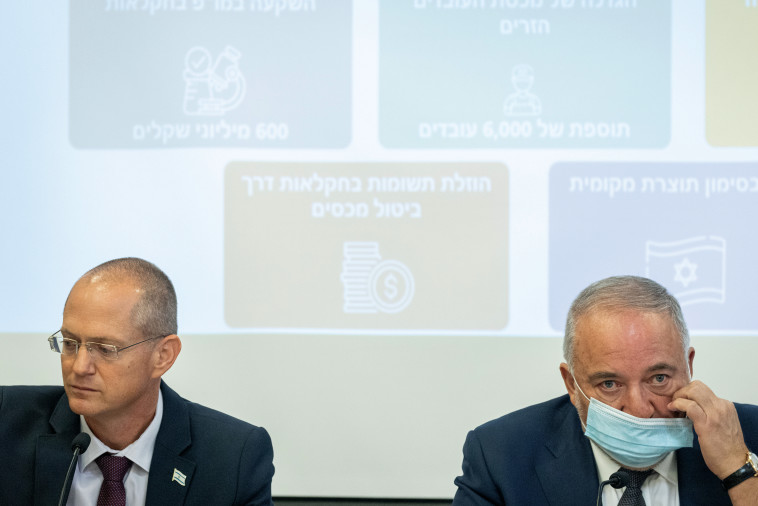 Business Owners Compensation: The demand for compensation of those who have been injured in a measurable manner is justified. The damage can be seen in the income tax and VAT reports of aviation, inbound tourism, guides, leisure businesses, and they need help and assistance, because the government will be examined for this.
Planting in the Negev: As a son of the Negev, I can say that we are a Jewish, Zionist, and democratic state, and we will plant in the Negev and the Galilee. No one will dictate to us what to do and how to use the land reserves.
Corona: My wife got infected from our daughter and I got infected from her. It so happened that the two of us, with the three daughters and the groom, were in isolation together. I got infected after three vaccinations, so I had a hard day and a half and already everything is fine. Corona has consequences of fatigue and weakness and should be given time for recovery.
leisure: Rides a mountain bike in the desert and accumulates hours there per person and also loves to cook. I have to read a lot for work, and a good book or song makes me feel good.
Looking to the future: I would love to be a significant minister in the government, and if I am an excellent minister, after a few years I will also be a prime minister. God has blessed me to be elected to the Knesset four times, to be a minister in three ministries and to head the influential committee in the Knesset, and all this within two years.